The shipping industry continues to be a hotbed of innovation, with activity driven by increasing global trade and commerce and the need for efficient, cost-effective, and environmentally sustainable sea transportation solutions, as well as growing importance of technologies such as the Internet of Things (IoT), artificial and augmented intelligence, advanced vessel operation monitoring systems, and hydrogen fuel cells. In the last three years alone, there have been over 67,000 patents filed and granted in the shipping industry, according to GlobalData's report on Innovation in Ship: Cargo unloading ramps. Buy the report here.
However, not all innovations are equal and nor do they follow a constant upward trend. Instead, their evolution takes the form of an S-shaped curve that reflects their typical lifecycle from early emergence to accelerating adoption, before finally stabilising and reaching maturity.
Identifying where a particular innovation is on this journey, especially those that are in the emerging and accelerating stages, is essential for understanding their current level of adoption and the likely future trajectory and impact they will have.
30+ innovations will shape the shipping industry
According to GlobalData's Technology Foresights, which plots the S-curve for the shipping industry using innovation intensity models built on over 25,000 patents, there are 30+ innovation areas that will shape the future of the industry.
Vessel propulsion systems, gas turbine-propelled vessels, and vessel internal combustion engine are some of the accelerating innovation areas, where adoption has been steadily increasing. Among maturing innovation areas are underwater drilling support systems and anti-fouling ship hull coatings, which are now well established in the industry.
Innovation S-curve for the shipping industry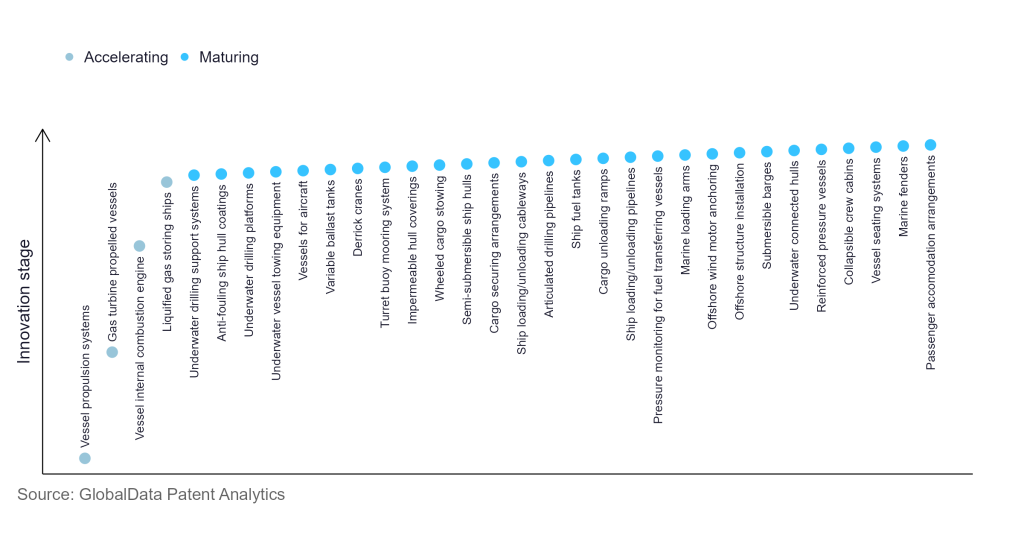 Cargo unloading ramp is a key innovation area in shipping
A cargo unloading ramp is a device used for quick and safe unloading of cargo from shipping containers with a forklift. A mobile cargo unloading ramp can be rapidly assembled and dismantled to support unloading operations without the need for permanent loading docks.
GlobalData's analysis also uncovers the companies at the forefront of each innovation area and assesses the potential reach and impact of their patenting activity across different applications and geographies. According to GlobalData, there are 10+ companies, spanning technology vendors, established shipping companies, and up-and-coming start-ups engaged in the development and application of cargo unloading ramps.
Key players in cargo unloading ramps – a disruptive innovation in the shipping industry
'Application diversity' measures the number of different applications identified for each relevant patent and broadly splits companies into either 'niche' or 'diversified' innovators.
'Geographic reach' refers to the number of different countries each relevant patent is registered in and reflects the breadth of geographic application intended, ranging from 'global' to 'local'.
Patent volumes related to cargo unloading ramps
Source: GlobalData Patent Analytics
Federal Marine Terminals (FMT), a subsidiary Canada's largest international dry bulk shipping group Fednav, is the leading patent filer in cargo unloading ramps. The patents filed by the company are related to ship-based cargo loading and unloading systems and equipment, and movable passenger bridges and gangways for ships.
FMT offers stevedoring, terminal handling, and logistics services for all types of dry cargo in North America. With a fleet of 120 vessels, the company operates at ten marine terminals in the US and Canada that are equipped with high-capacity cranes and forklifts, yard jockeys, and roll-on-roll-off (Ro-Ro) ramps.
Other leading patent filers in the space include TTS Group, Albertsons Investor, and Houlder.
In terms of application diversity, WindSea leads the pack, followed by Thyssenkrupp Airport Systems and TTS Group. By geographic reach, Cruise Ventures is the leading company, followed by Albertsons Investor and Ez Dock.
To further understand the key themes and technologies disrupting the shipping industry, access GlobalData's latest thematic research report on Shipping.
Premium Insights
From
The gold standard of business intelligence.
Blending expert knowledge with cutting-edge technology, GlobalData's unrivalled proprietary data will enable you to decode what's happening in your market. You can make better informed decisions and gain a future-proof advantage over your competitors.