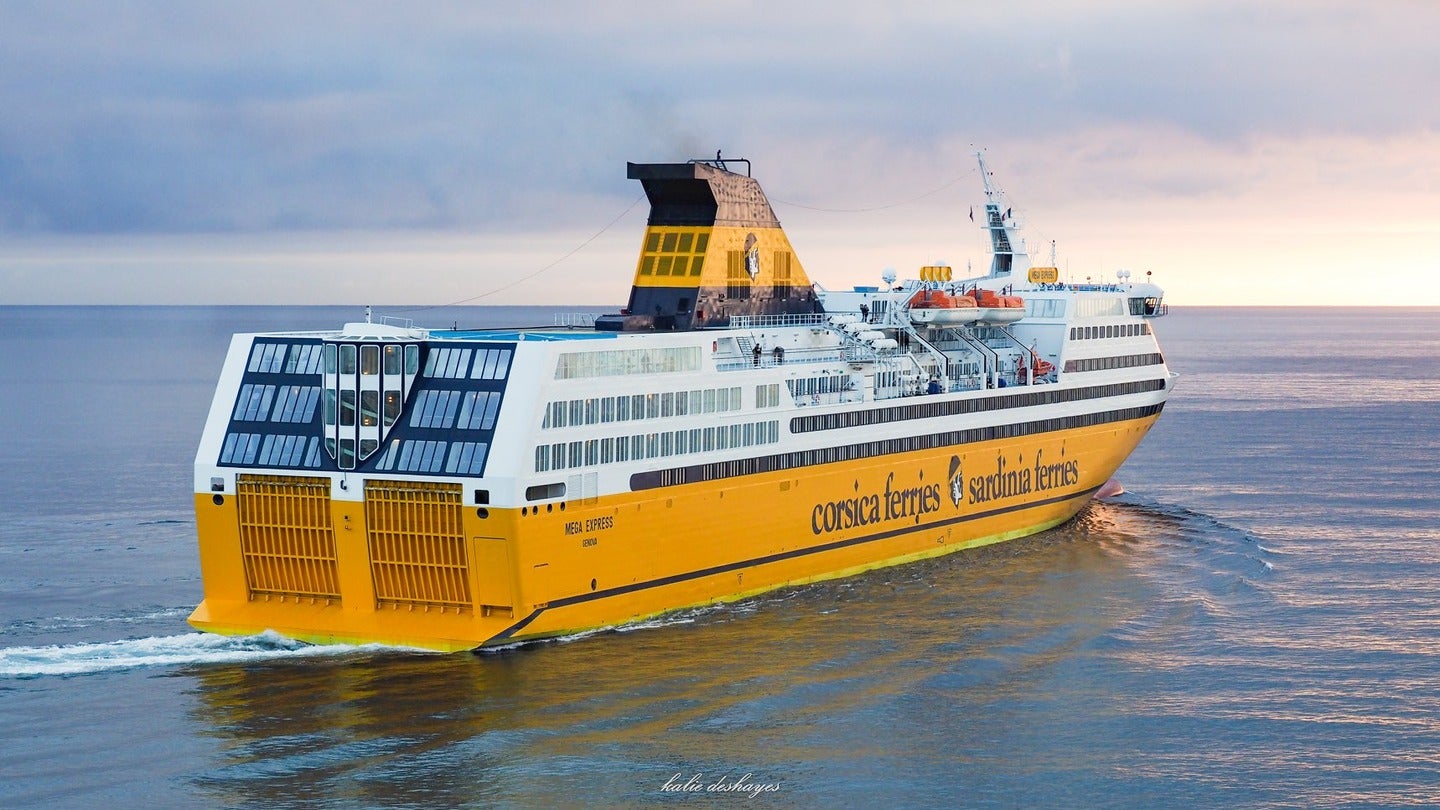 Corsica Ferries has enlisted Finnish manufacturer Wärtsilä to carry out decarbonisation modelling on two of its vessels and simulate how new technology could improve their sustainability.
The studies will be carried out on sister vessels Mega Express and Mega Express II, which both operate with engines and propellers from Wärtsilä, analysing the possible benefits of tech such as hybridisation and the manufacturer's air lubrication system to reduce fuel consumption.
Nicolò Verrina, energy transition naval architect and ocean engineer for Corscia, said: "It is a huge benefit to be able to simulate in advance how various products, solutions and systems will impact efficiency."
Using digital models of the ships, Wärtsilä will measure the possible efficiency gains of new tech innovations, including its own Energoprofin energy-saving propeller cap solution which can provide average fuel savings of between 2% and 5%, as well as reducing underwater noise and thus the impact on oceanic wildlife.
Verrina described the impact that knowing the benefits of installing new tech on existing ships can have: "This will help us in our efforts to decarbonise fleet operations and meet our sustainability goals."
The ferry company has been actively seeking to reduce its carbon dioxide emissions since 2010 by improving the fuel consumption and sustainability of its fleet and through additional schemes, such as the Corsica Ferries Forests in Peru and Corsica.
That scheme allows customers to include a donation towards the planting of trees in the Amazon region and other projects in Corsica such as supporting local bee farmers with protecting the biodiversity of their land.
Similarly, Wärtsilä's fleet decarbonisation service is part of its own drive to match the shipping industry's environmental regulatory compliance and support companies with their own attempts to prepare for the International Maritime Organisation's Carbon Intensity Indicator legislation.
Other companies to take advantage of the service include Companhia Brasileira de Offshore in Brazil. The Finnish manufacturer has also done other sustainability work in the Corsica region, signing a 10-year agreement with Corsica Linea to support its new liquified natural gas-powered vessel.