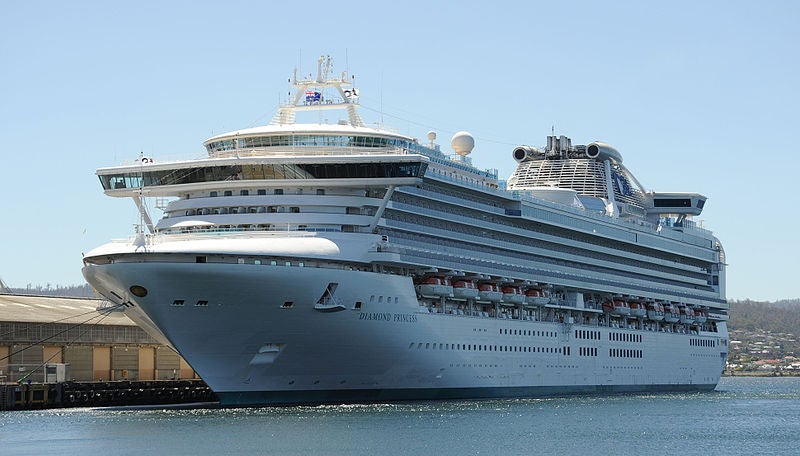 ---
Visit our Covid-19 microsite for the latest coronavirus news, analysis and updates
---
Follow the latest updates of the coronavirus (Covid-19) outbreak on our timeline.
---
Read about the effect of coronavirus (Covid-19) on cruise ships.
---
Another passenger who was on the Diamond Princess cruise ship has died, bringing the total number of cruise ship death toll to eight.
The passenger was a Canadian man in his 70s. Previously, seven passengers died on the Diamond Princess cruise ship.
The cause of death is reported to be pneumonia caused by Covid-19 . The first two deaths on the ship were reported in February.
The Japanese Ministry of Health, Labour and Welfare confirmed that the number of Covid-19 cases on the Diamond Princess reached 696.
In a study published by the CDC, it was found that the initial cases of the Covid-19 on the cruise ship came from food workers.
The study revealed that of the 20 confirmed cases of crew members, 15 were from foodservice members.
The epidemic has so far killed over 15,000 and infected more than 353,000 people around the world. Japan has reported 1,101 cases with 41 deaths, excluding cases on the ship.
Another Princess Cruises ship Ruby Princess had docked in Sydney, Australia, where passengers disembarked.
It was later found that 48 passengers who were on the cruise ship tested positive for Covid-19.
NSW Health has partnered with Defence Force to track down the remaining passengers. The Defence Force will find people who may have been in contact with any of the infected passengers.
In a statement on 20 March, Princess Cruises said: "We have assisted NSW Health to make contact with all guests who arrived in Sydney yesterday.
"We support NSW Health's call for all guests to follow to the letter the Australian Government's requirement for 14 days self-isolation and to seek medical advice if they experience flu-like symptoms.
"If you were onboard Ruby Princess then we ask you to follow NSW Health's request and respond to their email or text message to make direct contact with them."
Earlier this month, Princess Cruises decided to stop all cruise trips for two months in response to the global outbreak of Covid-19.