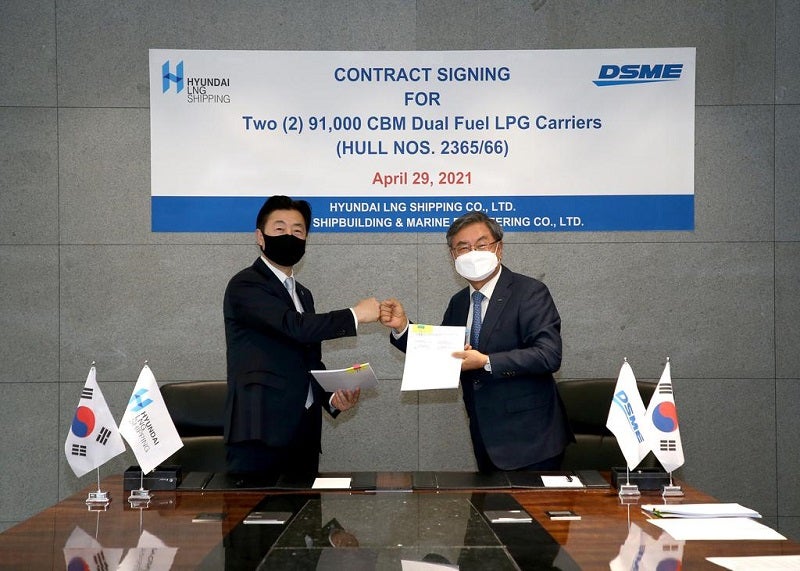 South Korea's Daewoo Shipbuilding and Marine Engineering (DSME) has received an order to deliver two dual-fuel Very Large Gas Carriers (VLGC) to chemical gas transportation firm Hyundai LNG Shipping.
The combined value of the contract stands at around $166.5m (KRW184.5bn).
In a regulatory filing to the Korea Stock Exchange, DSME stated that the 94,000m³ vessels are expected to be supplied by the fourth quarter of 2023.
The contract comes after Hyundai LNG recently ordered two VLGCs and three LNG carriers, with the options for three additional vessels. The value of this order was nearly $1.27bn.
According to shipping sources, Hyundai LNG ordered the two VLGCs following charter contracts from the BGN International charter in Dubai. However, the details of the charter were not revealed.
Last week, Hyundai LNG signed a contract with Hyundai Heavy Industries for three 174,000 m³ LNG carriers. The contract also included the option of three more vessels.
These newbuilds will be chartered to Malaysian oil and gas company Petronas.
In March 2021, DSME secured orders for the construction of ten very large crude carriers (VLCCs).
The total value of the orders was approximately around $1.73bn (KRW1.95tn).
Once built, the VLCCs will be supplied to Advantage Tankers, AET and International Seaways.
Overall, DSME has won 24 ship orders with a combined worth of nearly $2.21bn this year. This includes 11 VLCCs, nine VLGCs and four neo-panamax containerships.
The shipbuilder stated that it has accomplished around 29% of its annual newbuilding target of $7.7bn.