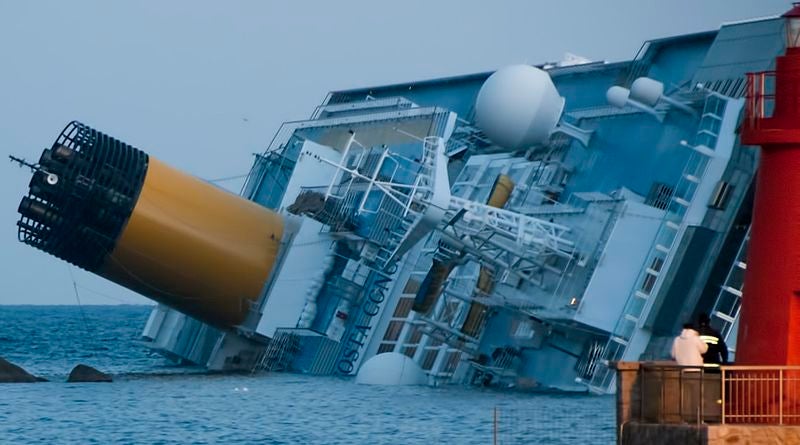 The sinking of the ill-fated Costa Concordia could cost Costa Cruises' parent company Carnival $95m (£62m), the firm announced in a statement.
The British-American company, which owned the cruiser through its Italian subsidiary Costa Crociere, said the vessel was expected to be out of service for the rest of the year but an assessment review is currently being undertaken to determine an exact time.
In addition to income losses, the company also faces costs associated with personal injury liability related to the accident and the cost of damage to the ship.
The insurance cost for the vessel is estimated to reach $750m, which includes cover related to the physical damage to the vessel, while the professional and liability insurance covers wider costs to third parties.
The €450m Costa Concordia has been insured for $513m, with insurers including XL, RSA and Generali, while other insurers will provide extra insurance to cover third party potential injuries.
The estimated loss however does not include the impact the accident will have on bookings. Carnival operates more than 100 vessels under different brands including Carnival, Costa, Princess, Holland America and Cunard.
The company said it will pay $40m in deductibles on insurance to cover damage to the vessel and third-party personal injury cover.
The cruise provides about 1.5% of the company's income and capacity, while its Italian subsidiary Costa Crociere contributes up 17% of group capacity.
So far six people have died and 29 others are still missing after the Costa Concordia hit a rock off Italy's west coast on Friday night. The ship owner blamed the captain for Friday's crash, saying he changed course towards an island and detained him on charges of manslaughter.
Image: The 114,500t vessel, operated by Costa Cruises, sank off the Italian coast last Friday. Image courtesy of Roberto Vongher.