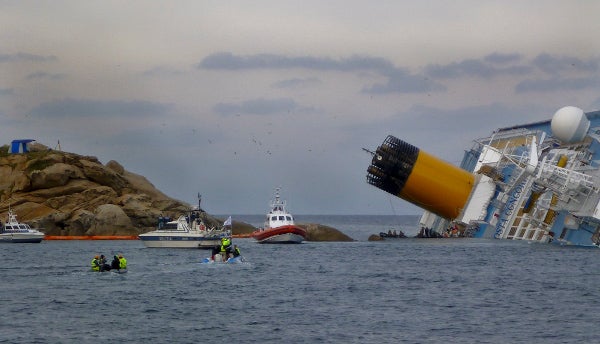 Italy's civil-protection agency has abandoned the search for 16 missing people inside the wrecked cruise ship Costa Concordia on the Tuscan island of Giglio in which 32 people are feared to have died.
The agency said that technical studies indicated the deformed hull of the ship created too many safety concerns to continue the search within the 290-metre long vessel.
A spokesperson of fire brigade spokesman on the island of Giglio Luca Cari told AFP : "We have definitively stopped the underwater search inside the ship. The conditions are no longer acceptable."
Italian civil protection agency, which has been coordinating the emergency interventions following the 13 January 2012 disaster off the Island of Giglio, said it will continue to search for bodies in the part of the ship above water.
The 114,500-ton Costa Concordia ran aground off the Tuscan island of Giglio of Italy when the captain of the ill-fated ship was said to have deviated from his planned route and struck a reef, creating a huge hole in the ship and causing it to capsize.
About 4,200 passengers and crew were on the ship when the disaster happened, and so far seventeen bodies have been recovered and 16 people are still missing. Search operations have been hit several times due to turbulent seas and small movements of the wreck, sparking fear that ship might slip from the rock it struck.
Italian civil-protection agency head Franco Gabrielli last week said removal of the stricken ship from the area may take ten months due to bad weather. The authorities are now focusing on salvaging 500,000 gallons (2,400 tons) of heavy fuel and other pollutants to prevent it from leaking into sea water.
Carnival said that the Concordia disaster will hit company's 2012 net income by as much as $175m, which includes insurance deductibles and loss of use.
Image: Italy's civil-protection agency will continue to search for bodies in the part of the Italian cruise Costa Concordia which is above water. Photo: protezionecivile.