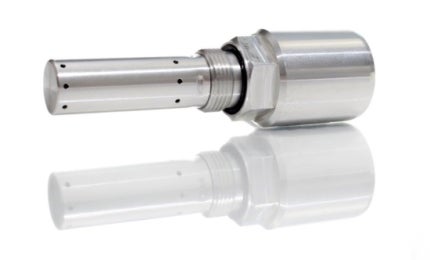 Determination of water concentration in hydraulic fluids and lubricants on a continuous basis can be considered an important task to ensure appropriate oil quality. Real-time monitoring with the help of the Humidity Sensor Standard enables efficient detection of changes occurring in the water content in oil, and thereby provides accurate information to make necessary modifications in order to ensure effective operation of the engine system.
By contrast with laboratory analyses that are aimed to establish the absolute content of water measured in ppm (parts per million), the Humidity Sensor Standard determines the relative humidity value, or the presence of free or dissolved water in oil. Different oil types have diverse saturation limits varying from comparatively low water absorption capabilities of mineral oils to relatively high for ester oils. Accordingly, laboratory analyses are intended to specify these values for various oil types. On the contrary, the sensor technology provides a substantial advantage as there is no necessity to know the saturation limit of a particular oil under examination.
Apart from its general benefits of applicability, the Humidity Sensor Standard is specifically useful for measuring humidity of unsaturated ester oils. Due to their nature and composition, unsaturated esters are not suitable for water-in-oil analyses with the help of portable test devices. The reagents employed in such analyses contain calcium hydride which reacts with the ester components making it impossible to estimate the degree of water concentration.
As soon as the Humidity Sensor Standard is installed in the relevant engine system, the humidity value is constantly measured and processed to the special display unit DATALOGGER. The current water concentration is calculated in percentages, ranging from 0% (no water detected) to 100% (complete saturation / existence of free water).
Therefore, irrespective of oil type and temperature, the Humidity Sensor technology provides accurate monitoring of the saturation degree of oil with water, and enables a direct warning if the humidity value exceeds the maximum acceptable level.
The key benefits of the Humidity Sensor Standard include:
Real-time monitoring of oil saturation with water in percentages
Not necessary to know the saturation limit of oil
Special applicability benefit with regard to unsaturated ester oils
Effective engine system operation by direct warning
Ideal to use for small diameter pipes (sensor immersion depth: 29mm)