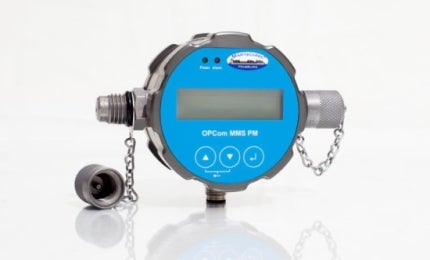 The continuous assessment of the condition of lubricant and hydraulic oils for the presence of insoluble or metal particles helps to recognise wear of the engine components at an early stage, and thereby prevent further substantial damage. The specifically designed Particle Sensor by Martechnic® enables ongoing monitoring of particle concentration in oil and real-time evaluation of their size and quantity.
An important advantage of using the sensor technology is the possibility to immediately identify any occurring changes in the oil condition, such as the degree of contamination, and to make necessary adjustments in order to ensure effective maintenance of the machine components. The convenient design of the Particle Sensor, which is equipped with an optical monitor, enables accurate counting of the detected particles, whereas the sensor's display with an arrow navigation system facilitates the general monitoring process.
The precise determination of particles is achieved by means of a so-called light extinction principle: through the application of the laser technology the particles are classified within a measuring cell in accordance with their size and quantity. The obtained results are displayed in compliance with ISO 4406:99 and SAE AS 4059 respectively.Once the Particle Sensor is integrated into the engine system, the degree of particles concentration is determined on a continuous basis.
The tangible benefit of the Particle Sensor is detection and evaluation of small-size particles starting from the size channel 4µm onwards. The obtained data is recorded, transferred to the special display unit DATALOGGER and stored for a prolonged period of time. Two sensor connections on opposite sides make the installation process in the off-line circuit to the system practical. As the sensor is resistant to fluid pressures of up to 420 bar, it can be installed directly into the pressure line.
Key benefits for the Particle Sensor include:
Ongoing determination of insoluble and metal particles
Application of light extinction principle with laser technology
Detection of small-size particles from the size channel 4µm onwards
Resistance to fluid pressures of up to 420 bar
Practical design for convenient installation
Early warning of the engine components wear