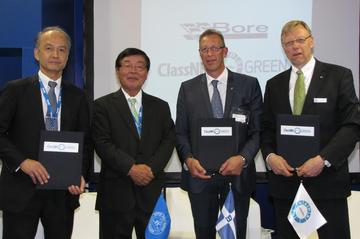 Finnish shipping firm Bore has announced that it plans to install the ClassNK-NAPA Green ship efficiency software on its 13,625dwt ro-ro vessel 'Bore Song'.
The move follows last year's successful sea trials of sister vessel 'Bore Sea' with onboard NAPA operational software, which reportedly offered a 5.8% reduction in fuel consumption.
The ClassNK-NAPA Green software was jointly developed by classification society Nippon Kaiji Kyokai (ClassNK) and Finnish company NAPA, which develops software for ship design and operation.
Launched in 2012, the software is intended to enhance vessel efficiency by reducing fuel consumption and greenhouse gas (GHG) emissions while ensuring compliance with ship energy efficiency management plan (SEEMP) legislation.
Bore vice president of marine management Jorgen Mansnerus said the software is expected to provide fuel savings aboard the vessel and will improve the efficiency and lower the fuel spend of charterers.
"Last year's sea trial of operational software was a significant factor in our decision to choose ClassNK-NAPA Green," Mansnerus said.
The ClassNK-NAPA Green software has already been equipped on a new container vessel ordered by China's Wan Hai Lines.
The software is currently undergoing sea trials onboard vessels owned by Japan's Imabari Shipbuilding, which is the third partner firm in the Class NK-NAPA Green project.
Bore, a wholly owned subsidiary of Rettig Group, has a fleet of 19 vessels, including both ro-ro and general cargo.
---
Image: ClassNK-NAPA's Green ship efficiency software will be installed on the 13,625dwt ro-ro vessel 'Bore Song'. Photo: NAPA.