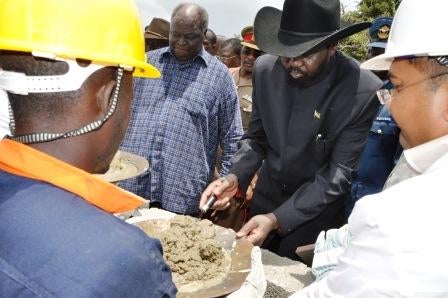 Kenya, South Sudan and Ethiopia have started construction on a new $23bn (£14.5bn) project in Kenya's Lamu region which includes construction of a new port, railway line and oil refinery.
According to reports, the port is expected to act as the main gateway to Africa's Great Lakes region which includes the Horn of Africa, eastern Africa and central Africa.
The Initial investment will be provided by the three governments for Lamu Port South Sudan Ethiopia Transport Corridor (Lapsset), project which is expected to be completed within four years.
Kenya President Mwai Kibaki said the project will provide the landlocked countries of the region with a direct and dependable route to the sea and help connect the entire east and central African region to international markets.
Under the project, a 32-berth port will be built that will be connected to Ethiopia and South Sudan by a super-highway, a railway and a pipeline.
In addition, Kenya and Sudan have signed a memorandum of understanding (MoU) to build an oil pipeline from Juba in South Sudan to Lamu, to export crude oil.
Lamu's 32-berth port is expected to be five times larger than Kenya's only other Indian Ocean port, Mombasa.
China is expected to have a major stake in the project which is funded by regional financial institutions, governments and international lenders.
According to reports, Ethiopia will have an alternative sea port to Djibouti and another export route if oil is found in its Ogaden region, which borders Somalia and where oil exploration is currently underway.
Image: President of South Sudan Kiir and Kenyan President Kibaki laying the foundation stone for the Lapsset project.