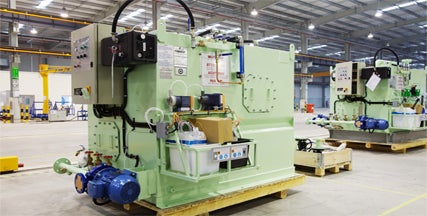 Hamworthy has secured a contract from South Korea's Hyundai Heavy Industries (SHI) to supply an ST8 series unit for BP's Quad 204 floating production, storage and offloading (FPSO) unit.
The BP-operated FPSO, which is scheduled to be installed in 2015, will replace the existing Schiehallion FPSO and will be deployed to the west of the Shetland Isles in the North Atlantic.
Hamworthy Water Systems project manager Gary Mills said, "The design uses Emerson instrumentation and programmable logic control where quality control, material, welding and non-destructive examination standards were all in line with BP's project requirements."
Scheduled to be delivered this year, the ST8 unit will handle about 12,000 litres water per day.
Under IMO MEPC 159(55) guidelines, the unit has been modified to meet stricter enforcement of sewage treatment standards.
Made with 316 stainless steel, the pumps and macerators are in accordance with offshore pump specifications and pipe works are in duplex stainless steel according to NORSOK M-650 requirements.
The FPSO which will have a length of 270m and width of 52m, will able to process and export up to 130,000 barrels a day of oil and store in excess of one million barrels.
Two sets of IGG units will be supplied by the company, comprising two deck water seals, two control systems, two inert gas cleaners and two pressure vacuum breakers.
To protect the vessel from the harsh operating environment, the IGG system, along with the control system, will be placed inside a dedicated inert gas room.
Image: Hamworthy's ST8 series unit for BP's Quad 204 FPSO project will be able to process about 12,000 litres water per day.