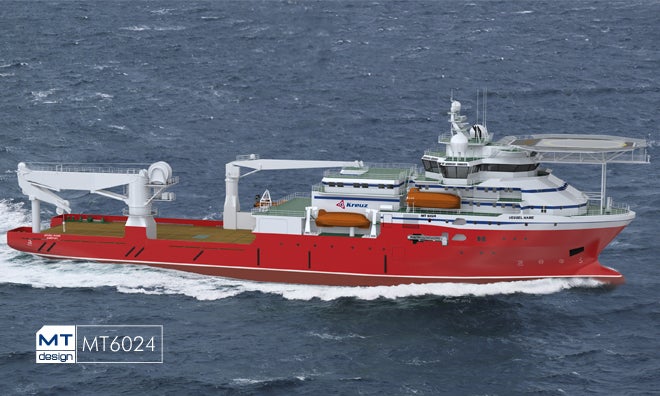 Norwegian ship designer Marin Teknikk has secured a contract from China Merchants Heavy Industry Shenzhen (CMHI) to provide design and engineering for a diving and construction vessel.
CMHI will build the new vessel, based on the MT6024 DSCV design, at its Chinese yard and will deliver it in the second quarter of 2015 to Singapore's Kreuz Subsea Marine.
The vessel will have a length of 120m, breadth of 25m and will be capable of accommodating 130 people.
Kreuz Subsea Marine's new vessel will be equipped with a 140t offshore crane, two ROVs for operations in water depths down to 3,000m and an 18-man double diving bell saturation system to facilitate operations under 300m.
Marin Teknikk sales director Richard Gjerde said the company has been working on the project since early 2011.
"Marin Teknikk has signed several new contracts recently and this contract will be a solid contribution to ensure amount of work the coming months," Gjerde said.
The design is focused on safety and is a continuation of the new generation of eco-friendly, modern multifunctional offshore construction vessels with reduced fuel consumption, according to Marin Teknikk.
The vessel, which will also feature diesel-electric technology with reduced exhaust emissions and a large cargo capacity both on and below deck, will be built to DNV class with the new SPS Code, COMF-V(3) and Clean Class notations.
The contract includes an option for another vessel of the same type.
---
Image: CMHI will deliver the 120m long MT6024 DSCV design vessel to Kreuz Subsea Marine in the second quarter of 2015. Credit: Marin Teknikk.