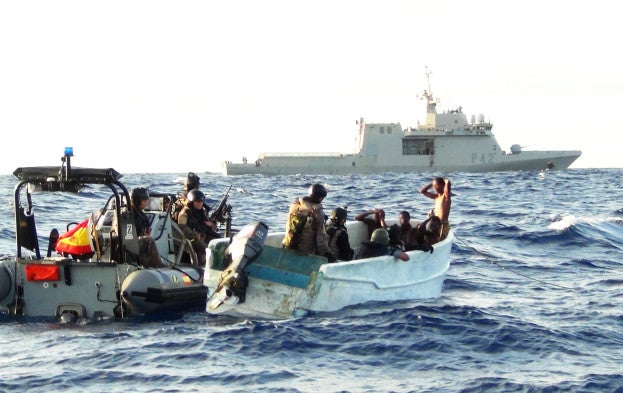 Pirate attacks off the coast of West Africa's Gulf of Guinea have almost doubled in 2012, with attacks in the region numbering higher than those in the waters around Somalia, according to a report from organisations including the International Maritime Bureau (IMB).
In 2012, about 966 sailors were attacked in West Africa, compared to 851 attacked off the Somali coast.
The report, 'The Human Cost of Maritime Piracy 2012', has been published by IMB, the Oceans Beyond Piracy (OBP) project and the Maritime Piracy Humanitarian Response Programme (MPHRP).
Oceans Beyond Piracy project manager Kaija Hurlburt said: "The report shows that continued vigilance and better information-sharing is needed to relieve the plight of seafarers; as long as one hostage remains in captivity, the human cost is too high."
According to the report, West African pirates have been motivated by the prospect of quick money through selling hijacked cargo, while Somali pirates sought large ransoms and held captives for much longer periods.
West African pirates mostly targeted fuel cargo and crews' possessions in the Gulf of Guinea, covering the coasts of Nigeria, Benin, Togo, Ghana and Ivory Coast.
The report shows that the attacks by Nigerian pirates often resorted to extreme violence and five of the 206 hostages seized in 2012 off West Africa were killed.
West Africa's highest risk area for pirate activity was off the coast of Nigeria, a major oil producer in the region.
Piracy in the Gulf of Guinea cost the world economy between $740m and $950m in 2012, which is expected to increase in 2013, against the grain of Somalian piracy, the cost of which dropped 12.5% in 2012 to around $5.7bn-$6.1bn.
So far in 2013, about 120 pirate attacks have been reported, out of which 22 were Nigeria-related incidents while seven were Somalia-related.
The report also showed that compared to 2011, piracy off Somalia in 2012 dropped 78% due to better practices by ship's captains and crews, as well as the increasing use of armed guards aboard vessels in the region.
---
Image: In 2012, West African pirates attacked 966 sailors, compared to 851 attacked off the Somali coast. Photo: EUNAVFOR.