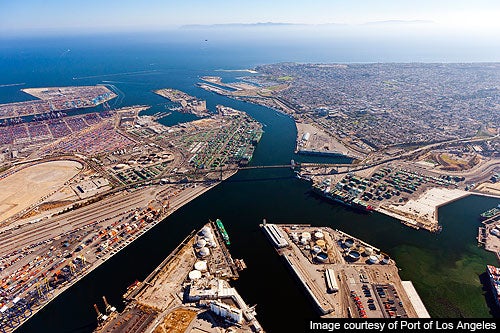 The Port of Los Angeles in California, US, is planning to develop an Energy Management Action Plan (E-MAP) to improve energy efficiency at the port.
The E-MAP will serve as the port's guide to identify, develop and implement several programmes to enhance energy efficiency, reliability, quality, cost and resiliency, as well as keep up with increasing electrification and energy demand.
Los Angeles Mayor Antonio Villaraigosa said: "The E-MAP will be the most comprehensive plan of its kind and will serve as a global model for energy efficiency."
Port of Los Angeles executive director Geraldine Knatz said improving the port's energy resiliency will also reduce its vulnerability in the case of natural or manmade events.
"We need to keep up with our ever-growing power needs but we also need to improve our overall power profile to provide the best possible service to our customers," Knatz said.
In addition to improving the port's energy profile in the future, the E-MAP is also intended to help meet the expected increase in demand for electricity in coming years.
According to the port, increased demand will lead to the expanded use of shore power, electric cranes, yard tractors and other cargo handling equipment, as well as future automation.
The E-MAP will assess the port's current and future power demands, develop a contingency plan to resume operations in the event of an unexpected loss in power and map out the implementation an Energy Technology Advancement Program.
As part of the initiative, the Los Angeles Department of Water and Power (LADWP) will be responsible for developing the Energy Efficiency Technical Assistance Program (EETAP), which will provide technical expertise to commercial, industrial and institutional customers.
EETAP will help customers plan and implement comprehensive solutions that reduce energy consumption and lower utility costs.
All major container terminals at the port have agreed to pre-register for EETAP.
LADWP General Manager Ron Nichols said: "Reducing the consumption and cost of electricity at the Port of Los Angeles benefits everyone who lives and works in the region – it reduces the Port's costs, it saves money for all LADWP electric customers and it reduces emissions."
---
Image: The E-MAP is intended to help improve energy efficiency, reliability, quality, cost and resiliency at the Port of Los Angeles.