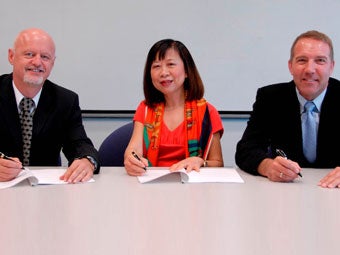 Singapore-based Sembawang Shipyard, a subsidiary of Sembcorp Marine, has signed a favoured customer contract (FCC) with Royal Caribbean Cruises (RCL) to repair, modernise, upgrade and provide related marine services to its ships.
RCL operates a fleet of 41 ships with a total capacity of 94,000 passengers under five lines including Azamara Cruises, Celebrity Cruises, CDF Croisières de France, Pullmantur and Royal Caribbean International.
The contract will include two Royal Caribbean cruise ships to undergo major revitalisation at Sembawang Shipyard and a third ship for drydocking and repairs between 2013 and 2014.
Sembcorp estimates that Sembawang Shipyard will achieve sales worth between $50m and $70m for the initial repair and refurbishment work, depending on the range of repairs and upgrading packages for the ships.
Royal Caribbean Cruises vice president of technical projects and newbuildings Kevin Douglas said: "The selection of Sembawang Shipyard as our partner in the Far East is in line with Royal Caribbean's strategy to grow our cruise business in Asia, as we see Asia, in particular China and Singapore, as our key market."
Sembawang Shipyard executive director Wong Lee-Lin said the shipyard had repaired and upgraded about 150 passenger ships since 1970.
"Sembawang Shipyard has over the recent few years focused strongly on the development of our fast-growing niche markets, one of which is the cruise ship repairs/upgrades and conversion market," Lee-Lin said. "We have developed a 'cruise ship culture' and a workforce with the right attitude, training and experience to successfully deliver cruise ships on schedule and to high quality, health, environment and safety standards."
The contract also includes joint planning, information and experience sharing, and the use of complementary resources to reach sustainable targets in the areas of health, safety and environment (HSE), logistics management, quality, cost-efficiency and on-schedule deliveries.
Earlier in 2012, Sembawang Shipyard carried out a $54m revitalisation of Royal Caribbean's Rhapsody of the Seas.
---
Image: The FCC contract is signed by RCL's vice president of technical projects and newbuildings Kevin Douglas, Royal Caribbean International vice president of marine operations Svein Taklo and Sembawang Shipyard executive director Wong Lee-Lin. Photo: Royal Caribbean.