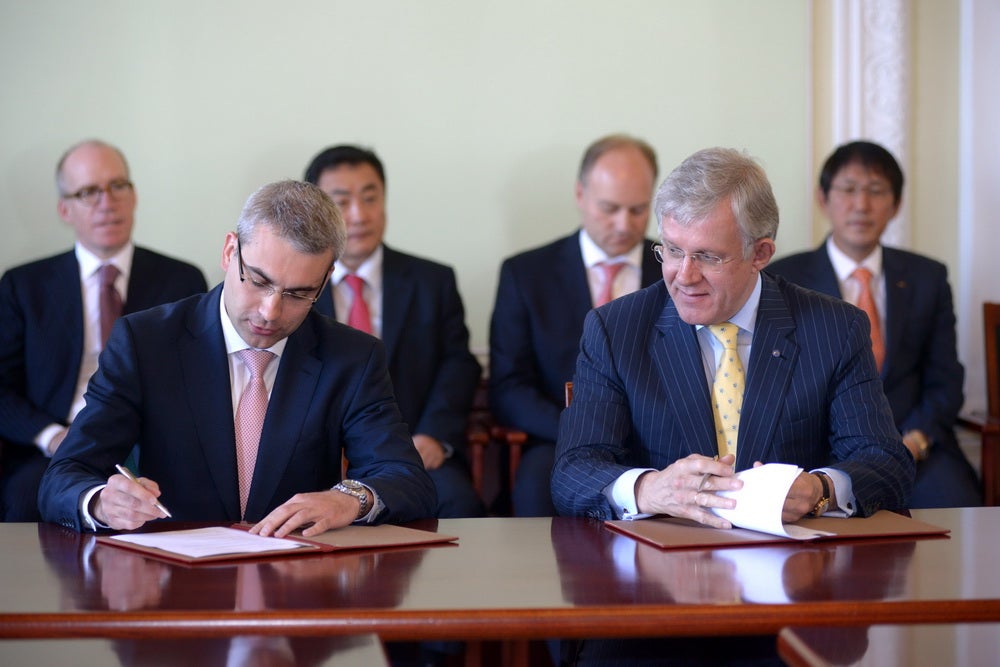 The Russian Maritime Register of Shipping (RS), United Shipbuilding, Sovcomflot (SCF) and Gazprom Marketing & Trading (GM&T) have signed agreements to promote the use of Russian companies in the construction of LNG carriers.
The deal will see GM&T give priority to RS for carrying out LNG production and transportation projects.
RS will be responsible for providing priority consultation to GM&T on ship-related matters, including LNG carriers, design, construction, classification and certification, as well as ship design, including conceptual designs.
The parties also agreed to collaborate to improve the education level of Russian seafarers and implement new technical solutions for shipbuilding and maritime safety.
RS CEO Mikhail Ayvazov said: "The documents signed today are of a strategic nature, since they enable actions to be taken within the framework of the RF state policy aimed at promoting the Russian content in the national shipbuilding projects while using the knowledge and experience accumulated by the maritime industry around the globe."
About 13 gas carriers of improved 'Gaz Ice' series are expected to be built during 2017-2021 for LNG shipping from Gazprom projects Vladivostok LNG and Sakhalin-2, Russia' first LNG project.
Sovcomflot ordered two gas carriers, Velikiy Novgorod and Pskov, in 2011 to operate under a contract for Gazprom.
The Ice2 Atlanticmax class vessels will have a cargo capacity of 170,000m³ and will be equipped with a new ME-GI slow-speed dual-fuel diesel engine with direct drive, replacing the diesel-electric propulsion system.
Construction of the Velikiy Novgorod is scheduled to be completed in December 2013, while the second gas carrier, Pskov, is expected to be delivered in 2014.
South Korea's STX Offshore & Shipbuilding is currently building gas carriers of the Velikiy Novgorod series for GM&T under the supervision of RS and Lloyd's Register of Shipping.
The vessels will be equipped to operate in low temperatures and have been designed to transport gas throughout the year from all existing LNG terminals, including Sakhalin 2.
---
Image: GM&T director of global shipping and logistics Nikolai Grigoriev and Sovcomflot executive vice president Evgeniy Ambrosov at the signing of the agreement. Photo: Sovcomflot 2013.