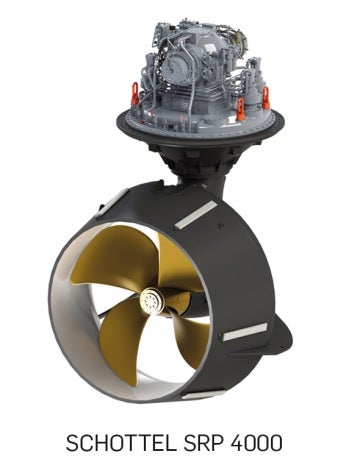 Germany-based Schottel has introduced a new generation of the Schottel Rudderpropeller (SRP) and the Schottel Twin Propeller (STP), which are designed to be compact, modular and performance-optimised.
The new thrusters will be suitable for offshore vessels, tugs and ferries, the company said.
The latest generation of Schottel's thrusters features a hydrodynamically optimised housing, hydraulically operated multi-disc clutch and hydraulic brake, and its housing has been optimised using computational fluid dynamics (CFD) techniques and model tests.
Both SRP and STP versions are available with a variety of reduction ratios and are ready for integration with Schottel's S-COM condition monitoring system.
The new thrusters are reportedly suitable for all common input speeds, whether operated by a diesel engine or an electric motor.
Compared to existing models, the new thruster series is more compact and also has more common parts throughout the different reduction ratios, resulting in improved spare parts availability.
According to the company, the thrusters are self-contained systems that need a minimum of mechanical and electrical interfacing.
The new hydraulically-operated multi-disc clutch drives the hydraulic units and disengages the drive train, and a hydraulic slipping clutch, which can be mounted on the upper gearbox of the standard clutch, will help increase the ease of maintenance.
The slipping clutch helps control propeller speed between near-zero and engine idle speed, intended for use with mechanically-driven DP2 vessels, double-ended ferries and tugboats.
The hydraulically-operated multi-disc holding brake featured in the new thrusters is intended to block the propeller from turning during service and maintenance work.
Similar to the clutch, the fully self-contained brake is a separate system outside the upper gearbox and requires no mechanical interface or auxiliary units outside the thruster.
---
Image: Schottel's new SRP and STP thrusters feature a hydrodynamically optimised housing, hydraulically operated multi-disc clutch and hydraulic brake. Photo: Schottel.