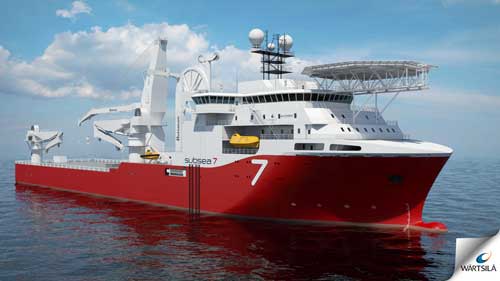 Wärtsilä has secured a contract to provide the design for a large heavy construction vessel (HCV) to be built for Subsea 7.
South Korean shipbuilder Hyundai Heavy Industries (HHI) will be responsible for the construction of the vessel, based on the Wärtsilä VS 4285 HCV design.
Following delivery in 2016, Wärtsilä said the new vessel will be one of the most capable heavy construction vessels in Subsea 7's fleet of over 40 ships.
The vessel is being built to meet increasing demands for larger and more complex projects, and has been designed to operate year-round in deep waters and harsh environments.
Subsea 7's new HCV will have a length of 160m, breadth of 32m, depth of 13.5m and deck area of about 2,600m².
The vessel will be equipped with a Huisman 600t active heavy compensated crane, a 325t amidships vertical pipe-lay system and two ROVs.
Planned to be equipped with high-level dynamic positioning (DP) capabilities and an efficient hull form, the new vessel will be capable of accommodating 132 people.
The latest order follows the contract Wärtsilä secured in December 2012 to design a dive support vessel (DSV) to be built by HHI for Subsea 7.
The DSV will also be built according to Wärtsilä's VS 4285 HCV design and is scheduled to be delivered in 2015.
The vessel will have a length of 123m, breadth of 24m, depth of 10.5m and will be able to accommodate 110 personnel.
---
Image: HHI expects to deliver the Wärtsilä-designed heavy construction vessel to Subsea 7 in 2016. Credit: Wärtsilä.