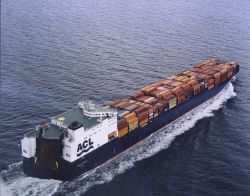 China-based marine design firm Hudong Zhonghua Shipbuilding has started the construction of five Generation 4 (G4) roll-on/roll-off (RORO) containerships for Atlantic Container Line (ACL), with the first vessel scheduled for delivery in January 2015.
HZS signed the deal with ACL for the construction of the vessels in July 2012. However, construction was delayed due to detailed design work and tank testing.
The vessels, which are being built at HZS's new ship construction facility on Chungxing Island near Shanghai, will feature a container capacity of 3,800 TEUs, 28,900m² of RORO space, and car capacity of 1,307 vehicles.
The vessels' speed will be increased by 10%, but fuel consumption per TEU will be reduced by 50%.
ACL has appointed Registro Italiano Navale (RIN) and the American Bureau of Shipping (ABS) to provide statutory classification services for the G4 ship construction.
The RIN and ABS provides periodic survey activities, certification, testing and inspection during assembly of the vessel. ABS will also oversee construction activities and ensure quality control on behalf of ACL.
ACL president and CEO Andrew J Abbott said that after five years of planning, this is the first step of the construction.
"ACL and our Parent Company, the Grimaldi Group of Naples, Italy, look forward to the progress in the upcoming months," Abbott added.
"We are most happy that construction of our ships will take place at Hudong Zhonghua's newest shipyard, where they employ the latest technology."
---
Image: ACL's Atlantic Container vessel. Credit: Grimaldi Group.