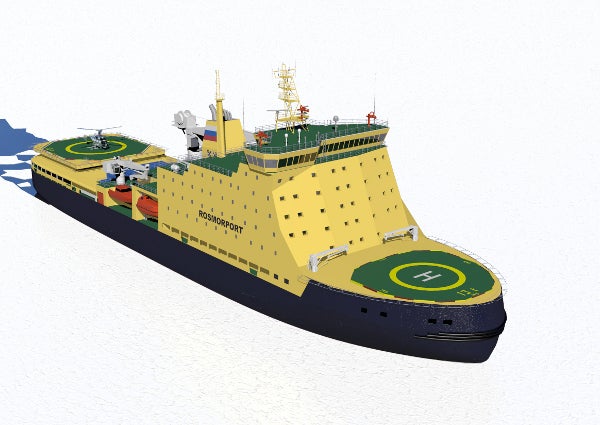 Swiss power and automation firm ABB has secured a $35m contract from Baltic Shipyard to provide propulsion and energy-efficient electrical systems for a new icebreaker being built for Rosmorport.
Under the deal, ABB will supply integrated power generation and distribution systems, thruster motors, fire-fighting pump motors and 25MW propulsion systems.
The propulsion system of the icebreaker will include two Azipod thruster units, each with a power output of 7.5MW, and one centreline shaft with a FP propeller providing an additional 10MW output.
According to ABB, all Azipod propulsion units for the vessel are designed for extreme Arctic ice class RMRS Icebreaker-8 and will be capable of reducing fuel burn by up to 20%.
The new vessel will be capable of navigating through ice up to 2m thick with 20cm of snow cover and temperatures as low as minus 35 degrees Celsius at a speed of 2 knots.
ABB Process Automation division head Veli-Matti Reinikkala said that the extreme conditions north of the Arctic Circle demand constant availability and high-energy efficiency from all systems on board.
"ABB's solutions will ensure the reliability and maneuverability required for this type of ship's operation," Reinikkala said.
The company expects to start delivery of the equipment in 2013, while the 25MW diesel-electric icebreaker is scheduled to be delivered to Rosmorport in 2015.
Upon delivery the icebreaker will be operated on the Northern Sea Route, rivers of the Arctic region and estuaries of rivers discharging into the Arctic Ocean.
In August 2012, Baltic Shipyard, a subsidiary of United Shipbuilding, won a $1.17bn order from Atomflot to build nuclear-powered icebreaker, the LK-60.
With a capacity of 60MW, the LK-60 is expected to be the largest and most powerful icebreaker vessel ever built.
---
Image: The Azipod propulsion units on the new 25MW diesel-electric icebreaker will reduce fuel consumption by 20%. Credit: ABB.