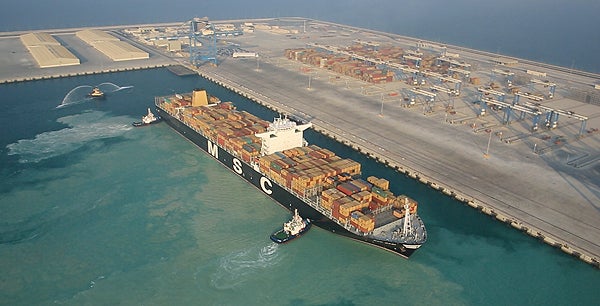 Abu Dhabi Ports Company (ADPC) has opened the AED26.6bn ($7.2bn) first phase of Khalifa Port.
The port is expected to help in achieving the Abu Dhabi Economic Vision 2030 of a sustainable and diversified economy, ADPC said.
Khalifa Port received its first ship from a commercial customer at 7am on September 1, the MSC Bari, which loaded and unloaded containers from the container yard.
Khalifa Port's container terminal will be operated by Abu Dhabi Terminals (ADT), which currently operates Mina Zayed, Musaffah Port and the Free Port.
The port, which is part of the Kizad industrial zone, has been designed with a 16m draft and a 4km quay wall.
Khalifa Port has a capacity of 2.5 million teus a year, with an additional 12 million tonnes of general cargo, including four million tonnes a year from an Emirates Aluminium berth that opened in 2010.
The port features ship-to-shore cranes and a terminal operational building that houses the computer technology used to control much of the container terminal.
ADT chief executive officer Martijn Van de Linde told the Khaleej Times that the company currently handles about 10-15 ships a week at Mina Zayed port and similar number of ships would be handled at Khalifa Port.
"But, gradual ramping up from where we have started right now, we are handling four ships a week, which will increase to 15 vessels by year-end," Van de Linde said.
The port, which has been built on the reclaimed Port Island, has an offshore area of over 2.7km², while the container terminal is situated more than 4km out to sea.
Khalifa Port's onshore area extends over an area of 5.5km² and includes supporting facilities like the documentation centre, government stakeholders' offices and user amenities.
ADPC plans to transfer more container traffic to Khalifa Port by the end of the first quarter of 2013 as Mina Zayed port is expected to reach maximum container capacity by the end of the year.
Mina Zayed port will continue to manage commercial cargo and will also develop the growing local cruise liner business.
The official inauguration of Khalifa Port will be held at the end of 2012.
---
Image: The first ship to enter Khalifa Port was the 366m MSC Bari, which loaded and unloaded containers from the container yard. Photo: Abu Dhabi Ports Company.