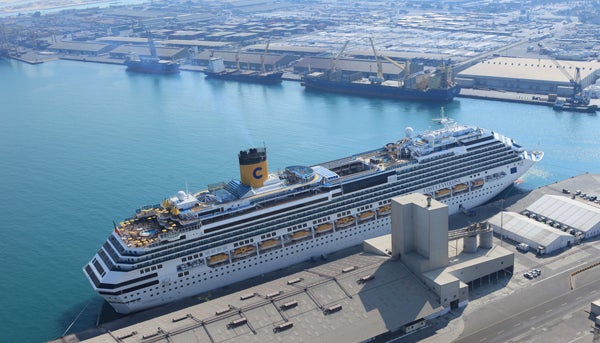 Abu Dhabi Ports Company (ADPC) has unveiled plans to redevelop part of Zayed Port in order to boost cruise business at the port.
ADPC said that in 2012 and 2013, a total of 96 vessels had anchored and 155,000 passengers visited Zayed Port, which is also referred to as Mina Zayed.
However, the company said that existing cruise liner facilities at the port have little room to handle the expected growth in coming years.
Under the plans, the company is planning to develop a permanent terminal building and a traditionally themed souk and heritage area.
ADPC, which is currently in discussions about the actual design and plan for the terminal building, has proposed a new temporary terminal facility for the next season.
Plans include moving the cruise ship berthing area into the new facility, which will allow for a new gate for passengers.
The cruise port gate will be accessed from below Sheikh Khalifa Bridge to the tourism destinations on both Saadiyat and Yas Islands.
The cruise liner terminal project will be implemented in several phases, with the first phase accommodating two large cruise ships and one small vessel.
Phase one is expected to be complete by October 2013 and ADPC said following phases will be developed as according to market potential and demand.
ADPC acting CEO Mohamed Al Shamisi said that for over 40 years, Zayed Port has been the major lifeline for Abu Dhabi's import/export trade, making it a vital port in the region.
"Now that all container traffic has shifted to Khalifa Port, the first semi-automated facility in the Middle East, we are looking forward to maximizing Zayed Port's capacity, allowing us to focus on a growing cruise line business and reinforcing Abu Dhabi's position as a world class tourist destination," Al Shamisi said.
---
Image: A total of 96 vessel calls and 155,000 passengers visited Zayed Port in 2012 and 2013. Photo: Courtesy of Abu Dhabi Ports Company.