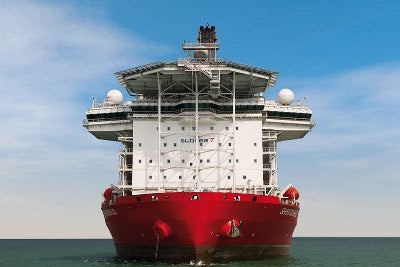 Amarcon has won an order from Subsea 7 to deliver their OCTOPUS suite of products for the recently delivered pipelay/heavy lift vessel Seven Borealis.
Seven Borealis will be used in the ultra-deep and deepwater projects in the world's deepest and harshest environments.
Under the deal, Amarcon will also provide a motion monitoring, ship response forecast system, called OCTOPUS-Onboard and a crane monitoring system.
OCTOPUS-Onboard will monitor and display the motions of the heave-compensated 5,000t crane in real-time.
In addition to the onboard motion monitoring and forecast functionality, the vessel will also be equipped with a DP capability forecast, which will enable the production of dynamic positioning (DP)-plots based on forecast thruster utilisation.
Authorised persons at the Subsea 7 office will be able to view and analyse the recorded motion and acceleration data of the vessel sent to a central database server collected by using OCTOPUS-Online.
Subsea 7 has also ordered Amarcon's hydrodynamic analysis software OCTOPUS-Office for calculations of sea-keeping characteristics of the vessel before the new pipe lay projects.
In 2011, Seaway Heavy Lifting had ordered OCTOPUS-Onboard for her Oleg Strashnov, which is being jointly operated with Subsea 7.
---
Image: Seven Borealis will be equipped with OCTOPUS suite of products and will be used in the in ultra-deep and deepwater projects. Photo: Amarcon