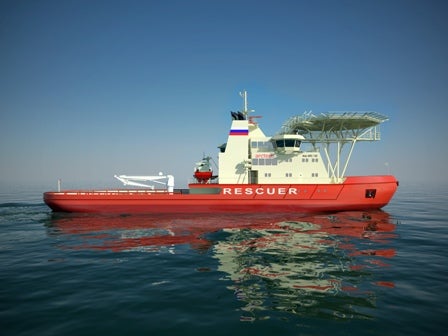 Finland-based Arctech Helsinki Shipyard has started construction on a asymmetric-hulled, icebreaking rescue vessel referred to as NB 508 or Baltika.
The rescue vessel is being built for the Russian Ministry of Transport and will be deployed for icebreaking, rescue and oil combatting operations in the Gulf of Finland.
The vessel includes an asymmetric hull, oblique design and three 360-degree rotating propulsors, which will allow the vessel to function efficiently sideways, astern and ahead.
The vessel can create a 50m wide channel in 0.6m thick ice in oblique mode, while bow and stern will be operable in 1m thick ice.
The advanced oil recovery system in the vessel will also be suitable for operation in heavy waves.
Aker Arctic Technology has developed the design of the vessel, which is based on the ARC 100 concept.
The rescue vessel measures 76.4m in length and 20.5m in breadth, and includes three main diesel generator sets with total power output of 9MW. Total propulsion power is 7.5MW.
Arctech Helsinki Shipyard managing director Esko Mustamäki said the company has started the hull assembly of an innovative kind of icebreaking rescue vessel.
"The rescue vessel represents a totally new technology, which enables its versatile use in different kind of ice conditions," Mustamäki added.
The vessel is expected to be delivered to the Russian Ministry of Transport in the first half of 2014 and is being built in co-operation with Kaliningrad-based Shipyard Yantar.
---
Image: Arctech Helsinki Shipyard has started the building of icebreaking rescue vessel NB 508, named Baltika. Photo: Courtesy of Arctech Helsinki Shipyard.