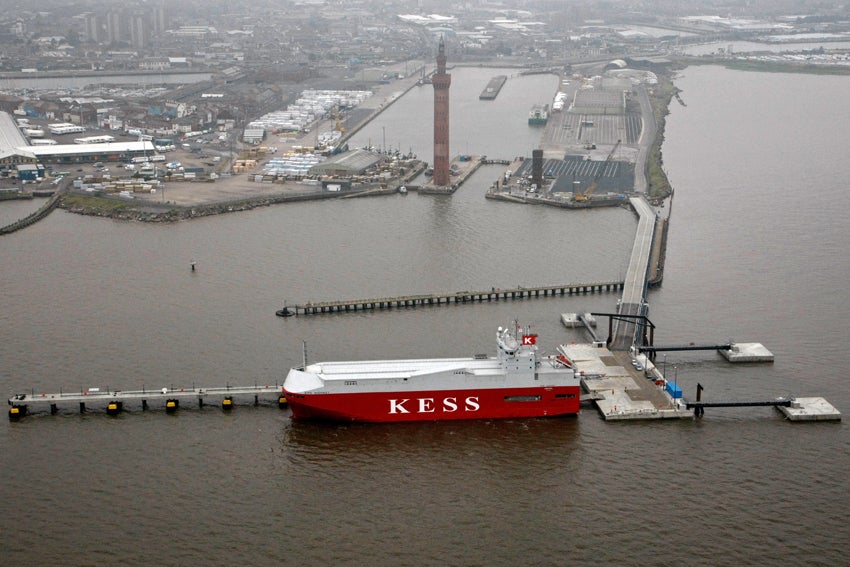 Associated British Ports (ABP) has opened the £26m Grimsby River Terminal (GRT) on the River Humber at the Port of Grimsby in the UK.
The terminal, which will primarily be used to import cars from Europe, has welcomed the first vessel, MV Ems Highway.
ABP said the MV Ems Highway discharged over 800 Volkswagen, Audi and Skoda vehicles onto the terminal's 7,000 tonne concrete pontoon, ready for distribution to customers throughout the UK.
The GRT will increase the port's capacity by providing access for two vessels carrying around 3,000 vehicles and will link directly into its car storage facilities.
ABP port director of Grimsby & Immingham John Fitzgerald said the new terminal represents major investment for the Port of Grimsby and will have a greater role in the European automotive supply chain.
"This investment cements Grimsby's role in this key market, which supports hundreds of jobs at the port," Fitzgerald said.
Up until now, car-carrying ships used Grimsby's Alexandra Dock, which can be accessed through the Port's original Royal Lock, built in 1852.
Volkswagen head of vehicle planning and logistics Matthew Bowden said the new facility will allow larger vessels to dock, enabling the company to bring in more vehicles per ship.
"This is particularly useful during the production build up for the two registration peaks each year," Bowden said.
The Port of Grimsby and Immingham is the UK's busiest car-handling port, with more than 788,000 units shipped in 2012.
Volkswagen, Toyota, Peugeot Citroen and Suzuki are the manufacturers serviced at Grimsby, which itself handles about 500,000 vehicles per year.
---
Image: The terminal on Port of Grimsby will be used to import cars from Europe. Photo: Courtesy of Associated British Ports.