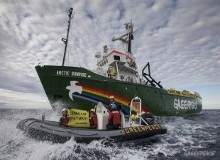 The Italian Government is set to ban large cruise ships from entering Saint Mark's lagoon in Venice, in order to reduce the damage to the city's foundations.
The decision follows long-running protests by activists and pressure groups who claim that the corrosive smog and vibrations from cruise traffic are damaging the medieval city.
The larger ships will use an alternative entrance point through the Venetian lagoon on the south-west end, while they are allowed to dock in Venice's maritime station.
Environmental organisation Greenpeace has announced the release of its Arctic Sunrise ship after being held for nearly a year by the Russian authorities.
The ship, dubbed Arctic 30, has left Murmansk port in Russia for its home port in Amsterdam, the Netherlands, where it will be assessed and repaired further.
In September 2013, the ship was taken into custody by the Russian authorities after two activists boarded a Gazprom's Prirazlomnaya oil rig to protest against its oil drilling plans in the Arctic.
Scotland's last commercial shipyard Ferguson Shipbuilders in Port Glasgow, Inverclyde, has gone into administration, putting around 80 jobs at risk.
UK trade union Confederation of Shipbuilding and Engineering Unions (CSEU) and GMB, a membership-based organisation that campaigns for workers' rights, have urged the Scottish Government to intervene and resolve the issue.
GMB Scotland senior organiser and CSEU chair Jim Moohan said: "Unless the Scottish Government intervenes this puts the final key in the door of commercial shipbuilding which [has] a history of several hundred years in Scotland."
Shvabe has designed and developed a new ship laser cannon that which is capable of cutting ice.
The ship-mounted laser can be used to support operations such as work at oil and gas platforms in the Arctic seas, making it easier to break the ice, reported RIA Novosti.
Speaking at the international exhibition Defense Expo, Shvabe CEO Sergey Maksin said: "We developed this ship-mounted laser for exploration and development in the Arctic, which has difficult ice conditions where platforms must operate and ships must pass through."
South Africa's Transnet National Ports Authority has placed a record order with Voith for nine new Voith water tractor (VWT) tugs for deployment at several ports across the country.
As part of what is claimed to be the largest order in Voith's history, Durban-based South African Shipyards will build the VWTs over the next 42 months.
Eight of the nine vessels on order will be powered by two Voith Schneider 32R5/265-2 propellers, which offer a bollard pull of 70t and will be deployed for harbour towage operations in the ports of Saldanha Bay, Port Elizabeth, Durban and Richard's Bay.
Rolls-Royce Marine has signed a cooperation agreement with Nauta SA ship repair yard to deliver an unparalleled level of service and skill to customers in Poland.
Under the terms of the agreement, Rolls-Royce will obtain exclusive rights to provide services on all of the company's equipment arriving at the shipyard.
In turn, the cooperation is expected to bring in an increased flow of customers into the shipyard, ensuring that they can readily access the original equipment manufacturer expertise.
The Maritime Labour Convention (MLC), an international agreement to safeguard seafarers' rights, may detain North Sea supply vessels and support ships in port that do not comply with new maritime labour law, Pinsent Masons shipping and maritime law specialist Katie Williams has warned.
Effective in the UK from 7 August, the new law also holds for sea-going commercial ships.
Under legislation, ship owners will be responsible for ensuring seafarers' basic levels of pay, sick pay, holiday entitlement and medical care. If seafarers are not satisfied, they can lodge a complaint against their employer or the ship owner.
Japan-based Eco Marine Power (EMP) has started work on a project to implement and assess a range of renewable energy technologies, along with Blue Star Ferries of Greece.
The aim of the project is to make shipping more sustainable through the use of renewable energy, which would help in the reduction of fuel use on ships.
Under the partnership, the companies will jointly work on several technologies, including the Aquarius management and automation system (MAS) with an integrated marine solar power system.
Russia-based Nevsky Shipyard has launched the new Spasatel Demidov vessel, which is designed for rescue and salvage operations.
Developed by Marine Engineering Bureau-Design, the vessel was built to the standards required under the state contract for the Federal Marine and River Transport Agency and for the direction of state contractor of Marine Transport Development Programme.
The vessel can provide technical support and assistance to ships in distress and also tow ships and other offshore structures in ice and in open water situations.
China Merchants Energy Shipping and Sinotrans & CSC Holdings have entered into an agreement to form a $1.1bn very large crude carrier (VLCC) joint venture (JV).
Under the deal, China Merchants Energy Shipping will hold a 51% stake in the JV and provide $566m in assets, including nine existing VLCCs and a further ten on order, while Sinotrans & CSC will invest $544m in cash.
The companies are seeking to develop a VLCC fleet with a capacity of up to 250,000dwt each, reported The Wall Street Journal.