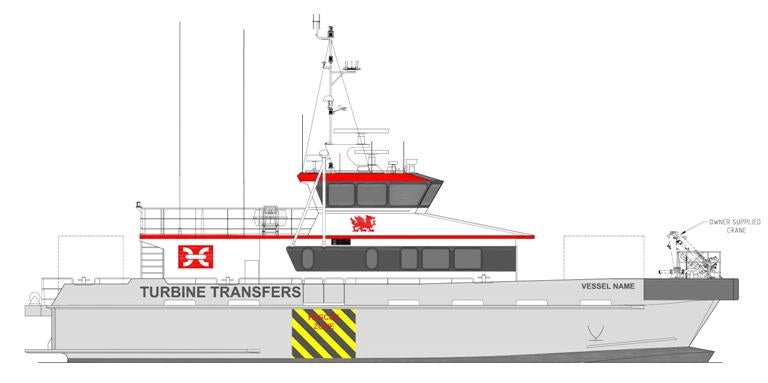 Australian shipbuilder Austal has won a contract from UK-based Turbine Transfers to design and build three wind farm support vessels.
Austal will build the 27m catamarans at its Philippines shipyard for delivery by December 2013.
Upon delivery, the new Wind Express 27 catamarans will be used by Turbine Transfers to support wind turbine installation and maintenance activities in European waters.
The vessels will be capable of transporting 12 people and ten tonnes of equipment/stores to and from turbines, including containerised items on forward and/or aft decks.
Each vessel will be equipped with four Caterpillar C18 diesel engines, propelled and steered by Rolls Royce Kamewa waterjets.
The vessels, which will be capable of operating at speeds in excess of 27 knots, will also be fitted with an Austal integrated monitoring, alarm and control system to ensure that all vessel functions are available from a central location on the bridge.
Compared to other catamarans, the new vessels are claimed to maintain higher speeds in waves with the help of the shipbuilder's new Z-bow hullform coupled with high tunnel clearance, which will help in reducing both exposure to seasickness and service times per turbine.
The catamarans will be equipped with a ride control system consisting of forward T-foils and transom interceptors to reduce unwanted motion and provide dynamic trim control.
The vessels are being designed and built to DNV +1A1 HSLC Windfarm Service 1 R1 classification and UK MGN 280 Area Category 1 requirements.
The order marks the shipbuilder's third new project for Turbine Transfers in about 15 months.
Austal delivered three 21m catamarans to Europe earlier in 2012 from an order placed in July 2011, while a 27m TRI SWATH ordered in January 2012 is currently being built at the Philippines shipyard.
---
Image: The new Wind Express 27 catamarans, to be delivered in December 2013, will be operated by Turbine Transfers in European waters. Photo: Austal.