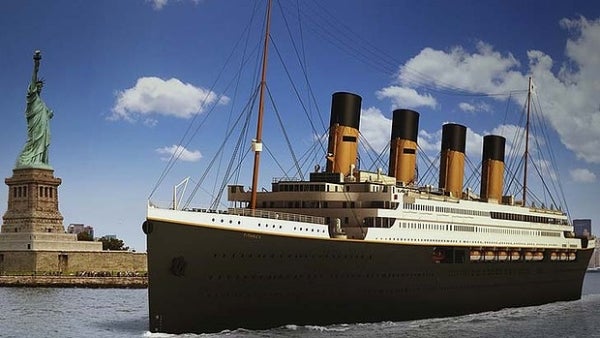 Blue Star Line, in cooperation with German hydrodynamic service and consulting firm Hamburg Ship Model Basin (HSVA), is planning to carry out the first model testing of the proposed Titanic II in September 2013.
Resistance and powering testing will be carried out on a 9.3m wooden model of Titanic II in a 300m-long tank at HSVA's Hamburg facilities.
Construction of the new vessel, which is based on the design of the original Titanic, is expected to start soon in China, with the cruise liner scheduled to start its maiden passenger voyage in late 2016 from Southampton, England, to New York, US, following the route of the original Titanic's maiden voyage.
Blue Star Line chairman Clive Palmer said the model testing by HSVA will be a crucial stage in the Titanic II project.
"The Titanic II model is to be tested in the HSVA tank at speeds of between 18 and 24 knots," Palmer said. "This testing is crucial for assessing the speed and power performance of this prototype vessel design."
HSVA director of resistance and propulsion Uwe Hollenbach said model testing is the only accurate and reliable method for a passenger vessel prototype such as Titanic II.
"Titanic II is a prototype as present day passenger vessels have a completely different type of main hull parameters and therefore are unsuitable as references," Hollenbach said. "The speed and power performance model testing is one of the critical aspects for a prototype vessel and needs to be verified before a construction contract is completed."
The new cruise ship, which its developers claim will match the original Titanic for luxury, will feature modern technology and the latest navigation and safety systems, while it will weigh 55,800t, measure 883ft in length and feature 840 rooms on nine decks.
The vessel will feature baths, a gymnasium, a squash court, swimming pool, theatre and casino, and will be capable of carrying around 2,435 passengers and 900 crew members.
Titanic II will be powered by a diesel engine but will have four smoke stacks similar to the coal-powered Titanic for decorative purposes.
---
Image: Titanic II is scheduled to start its maiden passenger voyage in late 2016 from Southampton to New York. Credit: Blue Star Line.