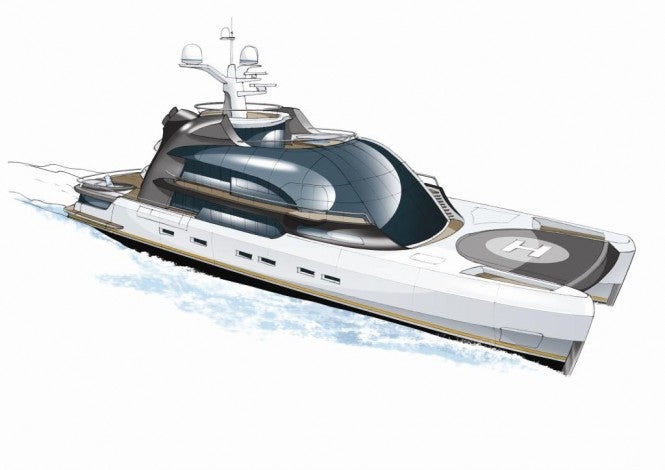 UK-based BMT Group subsidiary BMT Nigel Gee (BMT) has unveiled a new motor yacht design called Project Oxygen, which has been developed in collaboration with Claydon Reeves.
The Oxygen superyacht design incorporates an Extreme Semi-SWATH (XSS) hullform and is primarily intended to operate as a dive-explorer yacht.
The dive-explorer yacht can carry diving equipment as well as its own submarine, launched from a new stern lift that doubles as an adjustable swim platform.
The yacht design has a length of 55m and is equipped with four MTU 2000 series diesel engines powering a pair of controllable pitch propellers to travel at speeds of up to 24 knots.
According to BMT, the low draught of the yacht will allow access to shallow inshore locations. A ride control system consisting of active T-foils and interceptors will allow a smooth ride in demanding sea conditions.
The XSS hullform offers improved speed and seakeeping performance, and its catamaran shape allows extra deck space.
BMT Nigel Gee senior naval architect Rob Sime said the company's XSS hullform provides seakeeping performance approaching that of a traditional SWATH vessel, but with powering and fuel consumption levels comparable to more conventional catamarans.
"The XSS hullform has already been adopted for demanding applications in the offshore energy industry, and is equally well-suited to explorer yacht applications where owners may not want their enjoyment to be interrupted by the prevailing sea conditions," Sime said.
The guest accommodation is spread over three decks while the Dive HQ in the yacht provides changing facilities for underwater activities and allows direct access to the water once the stern lift is deployed.
The main saloon and dining room are located on the bridge deck, while the crew cabins are located on the lower deck.
---
Image: The 55m motor yacht Oxygen design by BMT Nigel Gee and Claydon Reeves. Photo: BMT Nigel Gee