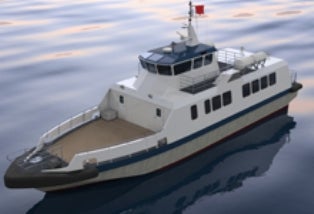 BMT Group subsidiary BMT Nigel Gee has secured a contract with Penguin Shipyard International for the design of two monohull Fast Crew Boats for ARCO Marine and Oilfield Services (ARCO).
Nigeria's ARCO Marine originally contracted Penguin to build two 25m BV classed boats that can accommodate 70 passengers.
With plans for deployment in its oil fields offshore Nigeria, ARCO Marine is expecting Penguin to build customised hulls for both boats in line with the infrastructure of its platforms.
BMT assisted Penguin throughout the tender process and developed an economical design, which it claims will advance ARCO Marine's expansion plans for its offshore services.
BMT Nigel Gee technical director Ed Dudson said: "We've worked with Penguin Shipyard International previously on a project to design and build three high-speed passenger catamarans for the Shipping Corporation of India but this is the first for the oil and gas sector, an area where Penguin is particularly strong."
Under the contract, BMT developed a configuration for each of the fast crew vessels to include four engines and four Rolls Royce A40A3 waterjets, which help achieve operational flexibility and fuel-efficiency at all speeds.
The four-engine (MAN D2842LE405) configuration allows the boats to complete their role even if one propeller is out for maintenance or repair.
A wheelhouse situated over the deck will provide all-round visibility of the oil field to enhance safety, said BMT.
---
Image: The fast crew boats, being designed by BMT and built by Penguin, will be deployed on Nigerian offshore oil and gas fields by ARCO Marine. Credit: BMT Nigel Gee.