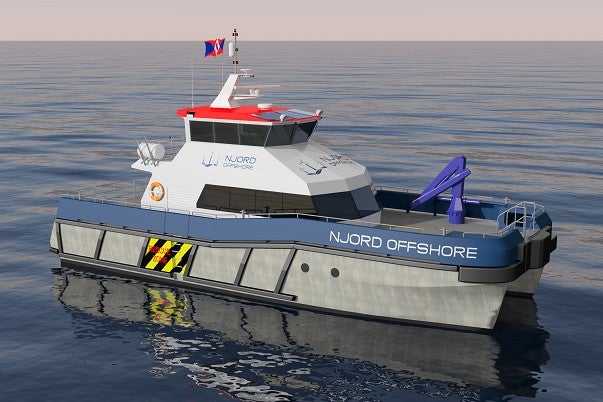 UK-based BMT Nigel Gee received a contract from Australian shipbuilder Strategic Marine, to provide the design for construction of eight new 20m windfarm support vessels.
Strategic Marine will build the eight offshore windfarm crew service vessels, including options for Njord Offshore, a subsidiary of Norse Management UK.
BMT Nigel Gee technical director Ed Dudson said these 20m vessels are the first in a range of offshore windfarm support vessel designs developed by BMT specifically for Strategic Marine.
"It confirms BMT's ability to offer cutting edge designs for this fast growing market and demonstrates yet another success for the specialised vessel design team at BMT Nigel Gee," Dudson said.
Developed from BMT's range of support vessels, each will have a length of 20m and beam of 7m. The vessels will be built to DNV Wind Farm Service I notation and each of them will be powered by twin MTU 8V2000M72 diesel engines capable of speeds in excess of 25 knots.
All of the vessels will be built at Strategic Marine's Singapore shipyard, which means Njord can closely supervise and be involved in the build project.
The first vessel is expected to be delivered later in 2012 and the others will follow through to the first quarter of 2013.
The deal follows an agreement signed between Strategic Marine and BMT in September 2011 and strengthens the Australian Shipbuilder's ability to provide offshore windfarm support vessels into the European market.
Strategic Marine chief marketing officer Terry O'Connor said, by leveraging the combined capabilities of BMT Nigel Gee and the company, the fact that Njord Offshore have chosen to build a fleet of boats with them is a fantastic result.
"We intend to be the market leader in providing support vessels into the offshore windfarm industry and these contracts are a significant milestone in us achieving our objective," O'Connor said.
Image: Strategic Marine will build the eight new 20m windfarm support vessels at its Singapore shipyard. Photo: BMT Nigel Gee.