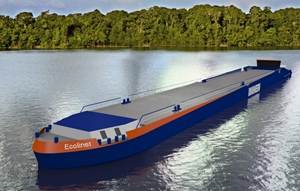 Damen's inland waterway shipyard Bodewes Binnenvaart and Dutch inland shipping firm QaGroup have developed EcoLiner, a new inland shipping concept.
The vessel can run purely on liquefied natural gas (LNG), for which permission has been granted by the Central Commission for the Navigation of the Rhine and the United Nations Economic Commission for Europe (ADN-UNECE) to enable it to operate in all international inland waterways.
The LNG concept works together with Bodewes Binnenvaart's air-lubricated ACES hull to help reduce fuel costs and reduce emissions, according to Damen.
The LNG/ACES system can be installed on any inland vessel on its own or as part of a package offered by the companies including ship design, shipbuilding, ship management, leasing, financing arrangements and highly trained crews.
Bodewes Binnenvaart director Rob Schuurmans said: "We expect this new concept to appeal to shippers of consumables, particularly oil companies and logistic operators keen to get their cargo off the roads and keen on having one partner, one contact to deal with."
The EcoLiner concept is based on the Damen River Liner 1145 and has a bunker capacity of 45m³ LNG; the concept will be fully classified by Bureau Veritas.
The design includes four generator sets, which power all of the consumers through the power management system that ensures efficient energy generation, distribution and storage.
"A typical ship engine runs most efficient at a load of 80% of its full power. With four generator sets the power management system will ensure the engines do so." Schuurmans said.
"Energy created can be stored when using less power or instead it can be used to heat or cool the cargo or for cooling water or heating accommodation," Schuurmans added.
The ACES hull fitted on the EcoLiner will help to reduce fuel consumption by 15%, while trials have shown that the vessel could achieve overall fuel savings of around 25%.
According to the partner companies, the separate generators create built-in redundancy and the LNG vessel will also come with a Damen full service contract.
---
Image: Based on the Damen River Liner 1145, the EcoLiner concept will be equipped with four generator sets that provide power via the power management system. Credit: Damen.