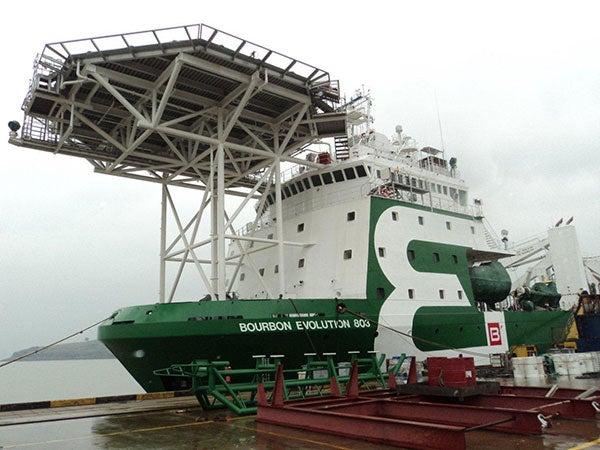 Offshore services company Bourbon has placed an order with UK-based PC Maritime for Navmaster ECDIS (Electronic Chart Display and Information System) to be installed on its new-generation inspection, maintenance and repair (IMR) vessels currently under construction at Zheijiang shipyard in China.
Under the deal, PC Maritime has supplied four dual Navmaster ECDIS to be equipped on the new IMR vessels to improve navigation safety.
Navmaster ECDIS is a new-generation Electronic Chart Display and Information System that can be fitted into existing bridge layouts and incorporates the input of many navigators into its design, according to PC Maritime.
PC Maritime will supply additional Navmaster ECDIS systems to be installed on five more Bourbon Evolution 800 series vessels between 2013 and 2014.
Bourbon Evolution 802 is the first of ten newbuild vessels to be fitted with PC Maritime's dual ECDIS and is currently operating off the coast of Nigeria.
The vessel's crew is using PC Maritime's familiarisation training course to achieve Type-specific certification, with five officers already certified.
Bourbon newbuilding managing director Olivier Daniel said: "Our reasons for installing Navmaster ECDIS are firstly to enhance navigation safety and secondly to improve the management of charts onboard."
Bourbon recently took delivery of the third vessel in the Evolution 800 series, Bourbon Evolution 803; the vessel is currently on sea trials and will be operated in Malaysia.
The Bourbon Evolution 800 series IMR vessels are designed to operate safely at depths of 3,000m.
Each of the ten Bourbon Evolution 800 series vessels will have a length of 100.2m, breadth of 21m, depth of 8m, maximum draft of 6m and deck area of 940m².
PC Maritime is also delivering Navmaster ECDIS to the 15-vessel Bourbon Liberty 150 series of platform supply vessels (PSVs) being built at Zheijang shipyard.
The first vessel in the series is expected to be delivered in the second quarter of 2013.
---
Image: Bourbon Evolution 803 is the latest vessel in the Evolution 800 series and was delivered in January 2013. Image courtesy of Bourbon.