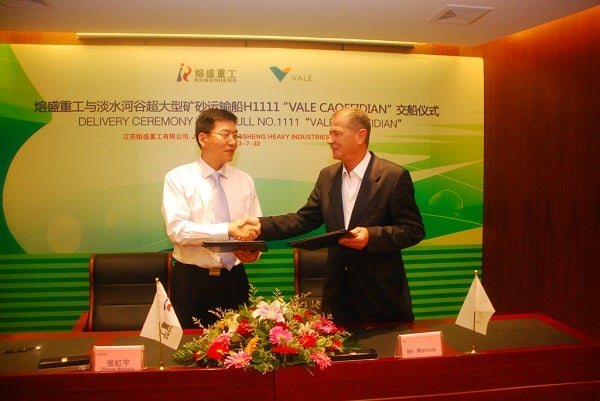 China Rongsheng Heavy Industries has delivered the eleventh 380,000dwt very large ore carrier (VLOC) named 'Vale Caofeidian' to Brazilian mining firm Vale.
Out of the 11 VLOCs delivered to various companies so far, the Chinese shipbuilder delivered one ship in 2011, six in 2012 and four so far in 2013.
Of the 16 380,000dwt class vessels orders secured by China Rongsheng, all four VLOCs orders from Oman Shipping have already been delivered.
The company is currently speeding up the delivery of the remaining five 380,000dwt VLOCs, with the next vessel to be delivered to Vale in the final sea trial stage.
All the VLOCs built by China Rongsheng will have a length of 360m, breadth of 65m, and depth of 30.4m.
According to China Rongsheng, the environmentally friendly design of the vessels will help cut down oil consumption and CO2 emissions, while their operating efficiency is also claimed to exceed the existing ore carriers.
During sea trials, the Rongsheng-built VLOCs have recorded an energy efficiency design index (EEDI) of 1.99 and are in line with the low-carbon green product concept.
The vessels will also comply with emission reduction limits set by the International Maritime Organization (IMO), which came into force on 1 January 2013.
Vale took delivery of Rongsheng's first VLOC, 'Vale China', in November 2011, which was equipped with a 7RT-flex 82T engine built by China Rongsheng and produced by its marine engine building division Hefei Rongan Power Machinery.
---
Image: Executives of China Rongsheng and Vale at the delivery ceremony of Vale Caofeidian. Photo: China Rongsheng.