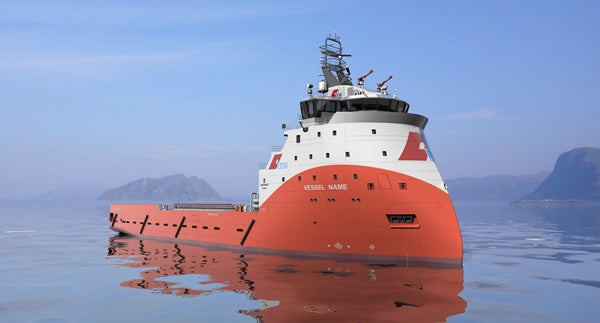 China's ROC yard has secured a contract from the ITG Group to build two platform supply vessels (PSV) based on Ulstein's PX121 design.
The contract marks the first X-Bow newbuild order secured by the ROC Yard, and also includes an option for two additional vessels.
Under the deal, Ulstein Design & Solutions will provide the design and equipment package, including basic and detailed design, all major equipment, site support/construction consultancy and commissioning.
Scheduled to be delivered in the first half of 2015, the vessels will have a length of 83.4m, beam of 18m and meet the requirements of DNV's Clean-Design notation.
Planned for the European market and suitable for worldwide operation, the PSVs will have a load capacity of about 4,000t, cargo deck of 840m² and a top speed of 14.5 knots.
The vessels, to be based on Ulstein's medium-sized PX121 design, will be capable of accommodating 30 people and are being prepared for an ROV mezzanine deck and a subsea crane for future installation.
ITG Group's new PSVs will be built according to the International Maritime Organisation's (IMO's) Special Purpose Ships Code for carrying specialised personnel and will also have OILREC class notation for oil recovery in emergency situations.
The inverted bow in Ulstein's X-Bow hull line design helps reduce speed loss in waves, leading to lower fuel consumption, Ulstein said.
The bow shape of the design gives the vessels soft entry into waves, allowing for better transit speeds in adverse weather conditions.
The design also helps in lowering pitch and heave accelerations due to foreship volume distribution and a slender hull water line, and eliminates slamming and vibration problems associated with conventional bow flare.
In still water, the vessel can achieve higher transit speeds with its low angles of entry and increased water line length.
---
Image: ITG Group's Ulstein X-Bow PSVs are scheduled to be delivered in the first half of 2015. Credit: Ulstein Group.