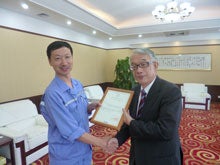 Japan-based ship classification society Nippon Kaiji Kyokai (ClassNK) has issued the world's second Statement of Compliance (SOC) to Dalian Shipbuilding Industry Marine Service (DSIMS), located in Changxing Island, China.
The statment confirms that DSIMS is in compliance with the Hong Kong International Convention for the Safe and Environmentally Sound Recycling of Ships 2009.
Established initially as a repair yard, DSIMS later started ship recycling operations at its 500,000m² site with an estimated recycling capability of 1,000,000 light displacement tonnage (LTD), making it one of the largest ship recycling facilities in China.
DSIMS developed its Ship Recycling Facility Plan (SRFP) for the incoming convention.
An SRFP is sought by competent authorities for providing authorisation that a ship recycling facility is in compliance with the convention.
ClassNK, an independent third-party organisation, confirmed that the SRFP met the requirements of the convention and that the facility is carrying out recycling according to its SRFP.
DSIMS is only the second ship recycling facility in the world to receive a Statement of Compliance.
The first SOC was issued to Jiangmen Zhongxin Shipbreaking & Steel in December 2012.
DSIMS is a subsidiary of Dalian Shipbuilding Industry Corporation (DSIC).
---
Image: ClassNK executive vice president Toshitomo Matsui (right) handing the SOC to Dalian Shipbuilding CEO Sun De Lin. Credit: ClassNK.