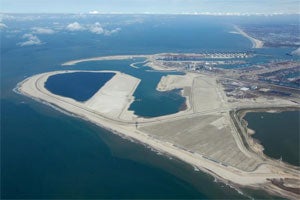 APM Terminals and Rotterdam World Gateway (RWG) have started the first phase of construction on a 2.7 million teu terminal on the Maasvlakte II site at the Port of Rotterdam, The Netherlands.
The Port of Rotterdam has already built the 108 hectare site with a quay wall of 1,150m, a quayside depth of 20m and a 550m quay designed for barges.
Construction of the terminal is scheduled to be completed in 2014, while operations are expected to start in November 2014.
Upon completion, it will feature fully automated rail and barge terminals, with an initial four rail tracks and cargo handling capacity of 2.35 million teu.
The company said that the use of electrification of all equipment and green energy generated power will enable the terminal to operate with zero CO2, NOx and particulate emissions.
The new terminal will be equipped with 14 ZPMC quay cranes, while horizontal transport of the containers from the quayside to the stack (temporary storage) will be carried out by 59 automatic guided vehicles (AGVs).
Temporary storage at the terminal will be equipped with 32 conventional automatic stacking cranes and 16 automatic cantilever cranes, which are supplied by Gottwald along with the AGVs.
APM Terminals has also signed contracts with Dutch contractor Boele & Van Eesteren for the construction of Maasvlakte II's main office and workshop.
Separately, Navis and TBA Netherlands will jointly develop the terminal operating (TOS) and the equipment control (ECS) software systems.
Earlier this May, the Port of Rotterdam won the final part of a €900m loan from the European Investment Bank (EIB) to fund a 20% expansion.
The funds will be used to finance part of a €3bn land reclamation project and to build new container and specialist facilities at Maasvlakte II, expanding the port area from 10,000 hectares to 12,000 hectares.
---
Image: Construction of the new terminal on Maasvlakte 2 is scheduled to be completed in 2014 and operations will start in November 2014. Photo: The Port of Rotterdam