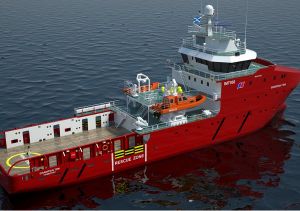 Scottish shipping and energy services firm Craig Group has announced it will build six new vessels at the Balenciaga Shipyard in Northern Spain.
The group will invest £70m to build the vessels, which will comprise four D class IMT 950 emergency response and rescue vessels (ERRVs) and two F class IMT 958 ERRVs.
The new vessels will be delivered during 2014 and early 2016.
Each D class vessel is 50 metres in length and will be outfitted with a daughter craft, an FRC and survival facilities.
The four new D class vessels will join the company's fleet of four D class vessels that are already in service.
The 58-metre F class vessels run through diesel electric propulsion via twin Azimuth Stern Drives.
The F Class vessels will be outfitted with a daughter craft and FRC, and will be able to transfer and store limited deck cargo and provide offshore locations with fresh water and fuel.
Craig Group chairman and managing director Douglas Craig said the investment 'is part of the company's continued drive to operate the largest and most modern wholly British-owned fleet engaged in the UK offshore industry'.
"A new-build programme of this size and scale underlines our commitment to the marine industry and means that we continue to offer our customers an unrivalled service," Craig said.
The six new vessels will join the group's fleet of 36 vessels, which includes a mix of platform supply, tanker assist, ROV support and ERRVs.
---
Image: The D class vessels will replace existing tonnage in Craig Group's fleet. Credit: Craig Group Ltd.