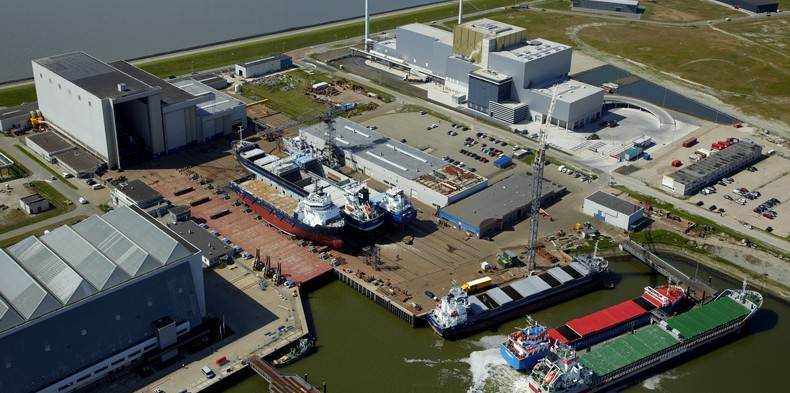 Damen Shipyards has completed the acquisition of Dutch ship repair yard Shipdock , which operates facilities in Amsterdam and Harlingen.
Shipdock Harlingen services vessels up to 120m long, while the Amsterdam facility can service ships up to 250m long.
In Amsterdam, Shipdock also operates a professional machine shop and steel construction facility called Niron Staal.
Until the integration of the company with Damen, Shipdock will continue its ship repair and conversion services, while its personnel and management will remain in place to ensure a smooth transition.
Damen Shipyards Group CEO René Berkvens said in order to expand its presence in the ship repair industry, the company had recently established a new division called Damen Shiprepair & Conversion, incorporating all of its repair yards.
"The Shipdock yards bring added value to Damen, both separately in their own markets and regions and as a whole – together they have ample experience in shipbuilding, ship repair, conversion and steel construction," Berkvens said.
The Damen group currently includes over 50 shipyards, repair and conversion yards and related companies.
In May 2012, the company acquired Swedish ship repair and maintenance yard Oskarshamnsvarvet in Oskarshamn for an undisclosed sum.
Oskarshamnsvarvet specialises in the maintenance and repair of vessels up to 80m and since 1863 it has built, repaired and maintained a substantial part of the Swedish coastal fleet.
The yard includes a floating dock, a slipway, and a 100t portal crane, and is also active in industrial activities such as specialised crane assembly and the production of special-purpose containers.
---
Image: Shipdock has two ship repair yards in Amsterdam and Harlingen, which can handle vessels of up to 250m and 120m long, respectively. Photo: Damen.