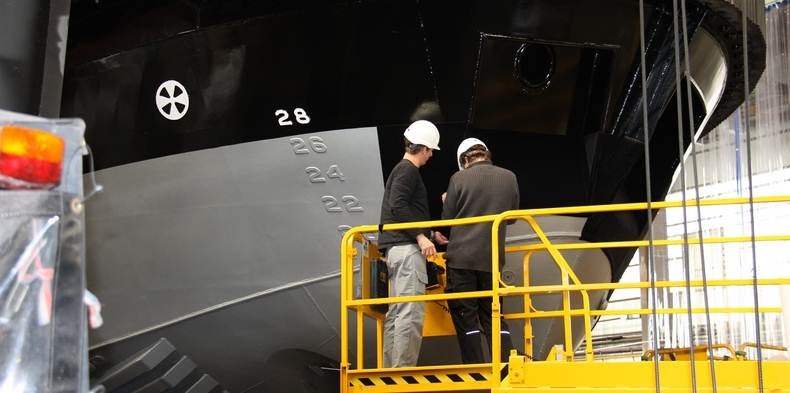 Damen Shipyards and the Port of Amsterdam have launched a pilot project to test Thorn-D, a new anti-fouling film that is applied to ships' hulls below the water line.
Compared to conventional antifouling coatings, which need to be replaced every six months on average, the new film is claimed to have an expected lifetime of five years.
Developed by Micanti owner and managing director Dr Rik Breur, the film has already been tested on trial surfaces and work vessels.
Damen is currently applying the antifouling film on one of the Port of Amsterdam's patrol vessels, and the work is scheduled to be completed on 26 February 2013.
The Port of Amsterdam's Nautical Division manager Willem Spoelstra said two boats, one with the new film and the other with a conventional antifouling coating, are being used by the port for the testing, which will be carried out in the same area.
"The pilot will run for a year and we've agreed with Micanti that the film has to remain problem-free for at least two years," Spoelstra said. "They've given us certain guarantees concerning durability and so on, in any event. We can now assume that the film will not come off."
Two vessels, a tug that belongs to Dutch firm BMS Towing and another vessel in Florida, have already been operating with the antifouling film for some time, testing its effectiveness at up to 30 knots.
Micanti commercial director and co-owner Eric Pieters said the company will apply the film to a fleet of approximately 15 work vessels and crew vessels in the months ahead.
"They include boats run by towing companies in the Netherlands, the Middle East and a tug owned by the Port of Los Angeles," Pieters said.
---
Image: Damen is currently applying the new anti-fouling film on one of the Port's patrol vessels, which will be tested along with another vessel with a conventional antifouling coating. Photo: Damen.