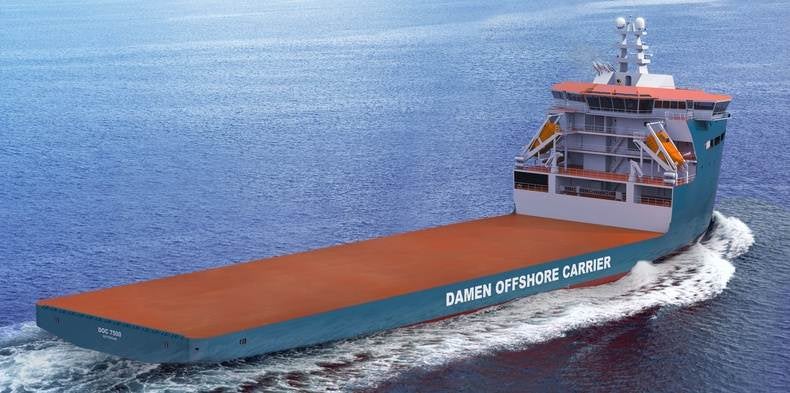 Damen Shipyards has launched a new multifunctional design, the Damen Offshore Carrier (DOC) 7500, which is suitable for heavy transport and offshore installation.
The DOC has been designed for smaller heavy transport, RO-RO operations and installation work, and has been designed to provide year-round utilisation in multiple markets.
The new vessel has been developed in cooperation with Singapore-based heavy lift transport specialist Hans van Mameren, managing director of Ha-Ce Engineering.
The design has a length of 119m and width of 27.45m and can operate at an average speed of 10-12 knots.
As it can run on HF0380 oil, the vessel could reduce fuel consumption by 50% to 75%.
Damen Shipyards Bergum sales manager Remko Bouma said that the company wanted to create a vessel that was able to carry modules and cargo on an open deck over medium and long distances, complying with the demands of today's market.
"I think this vessel will be 'the' alternative for the more time consuming tug and barge transportations," Bouma said.
The vessel's streamlined bow and hull design will allow the vessel to sustain its speed and course in head seas and also helps reduce fuel consumption, according to Damen.
The vessel will be equipped with dynamic positioning 2 (DP2) to make it stable for safe offshore loading and unloading operations.
The vessel is designed to accommodate 30 people, and can also be fitted with the DP3.
The DOC, which will have a deck of 2,300m² and deck strength of 20t/m², may also be used for a variety of offshore installation work, like cable laying, subsea installation, reel laying and floatover installation.
Additionally, the vessel can be equipped with a Damen Deep Dredge to allow dredging and mining work at water depths of up to 200m.
The first DOC 7500 is expected to be delivered in 2014.
---
Image: The Damen Offshore Carrier (DOC) 7500 has been designed for smaller heavy transport, RO-RO operations and installation work. Credit: Damen