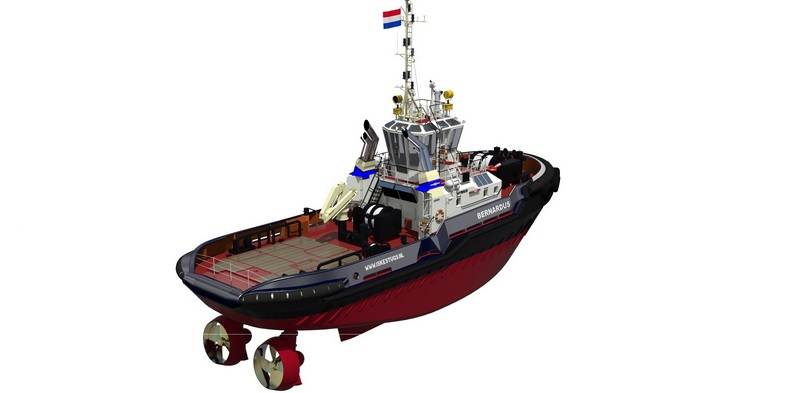 Dutch shipping company Damen Shipyards has launched its first hybrid tug, called the ASD Tug 2810 Hybrid, and has also signed a sale agreement with Iskes Towage & Salvage for the new tug.
With a combination of diesel-direct and diesel-electric propulsion, the new hybrid tug is claimed to offer diesel fuel savings of 10%-30% as well as reduce emissions by 20%-60%.
The new tug has a bollard pull of 60t and a diesel electric propulsion system that helps deliver enough power to prevent the main engines of the diesel direct propulsion system from running idle frequently or at low loads.
Damen said its second hybrid vessel is scheduled to become available from stock at the end of 2013.
Netherlands-based Iskes has been operating a conventional Damen ASD Tug 2810 since November 2011.
Damen Tugs design and proposal engineer Erik van Schaik said that most green solutions for the tugboat market have been highly expensive in the past.
"We were very mindful that this vessel had to cut fuel and emissions, but at the same time it had to be positioned at an attractive price for the market," van Schaik said.
"The Hybrid represents an extra investment of approximately 10% more than the regular ASD Tug 2810," he added.
Iskes joint managing director Ronald Vergouwen said emissions reductions are increasingly important, particularly in port cities like Amsterdam.
"And in the future there is likely to be increasing regulation about emissions in ports," Vergouwen said.
Iskes, along with Offshore Ship Designers, had been working on its own green solution to look into the potential of a hydrogen hybrid tug.
Damen and its partners had monitored a conventional ASD Tug 2810 by operating in the port of Rotterdam under the three-year E3-project, which was completed in early 2012.
The project was carried out in order to collect data on a typical harbour tug and see what was possible in terms of emissions and fuel reductions.
During the E3 project, Damen's research department made a computer simulation model to analyse various propulsion trains, which it can use to calculate the exact savings possible from the hybrid in each individual case based on the tug's operating profile and running hours.
Damen said it is likely to provide 100kWh battery packs with the hybrid tug, allowing the vessel to sail up to five knots.
With the battery packs, it is possible to shut down all the engines during station keeping, manoeuvring and free sailing at low speeds, making the vessel more environmentally friendly.
---
Image: Damen's new hybrid tug is 10% more expensive than the regular ASD Tug 2810 and will offer diesel fuel savings of 10-30%. Credit: Damen.