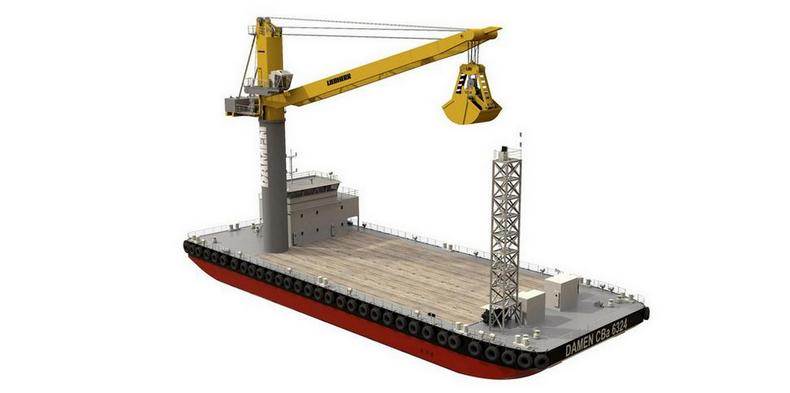 Damen Pontoons & Barges has launched a new CBa 6324 crane barge, the second in the series, at its Nantong Yahua Shipyard in China.
Designed for trans-shipment of bulk cargo in open waters, the barge will also be capable of unloading and offloading cargo from ship-to-ship, ship-to-quay and vice versa.
The new CBa 6324 will have a length of 63m, width of 23.5m and will be equipped with a Liebherr CBG 350 crane capable of handling a grab load capacity of 35t at 12m-36m and a hookload capacity of 45t at 12m-36m.
To be outfitted at Yahua Shipyards, the new CBa 6324 is the second crane barge in the series; the first barge is currently being outfitted in Rotterdam, the Netherlands.
The crane barges are scheduled to be delivered in March 2013, one to Nantong China and the other to Rotterdam.
Classified under Lloyd's Register, both barges are equipped with Caterpillar generating sets, DMT winches, Azque pumps, a Van der Leun electrical system and an International Paint system.
The vessel will have accommodation for 12 persons, with facilities like pantries, changing rooms, offices and cabins.
In May 2012, Damen Shipyards launched its Stan Pontoon (SPo) 12032 at Jiangsu Ganghua Shipyard in China, one of the company's partner yards.
SPo 12032, which has been built as part of a series of 34 pontoons currently under construction, is the longest pontoon ever built by the shipyard.
---
Image: Damen's new CBa 6324 will be used for trans-shipment as well as container handling operations and salvage operations. Credit: Damen.