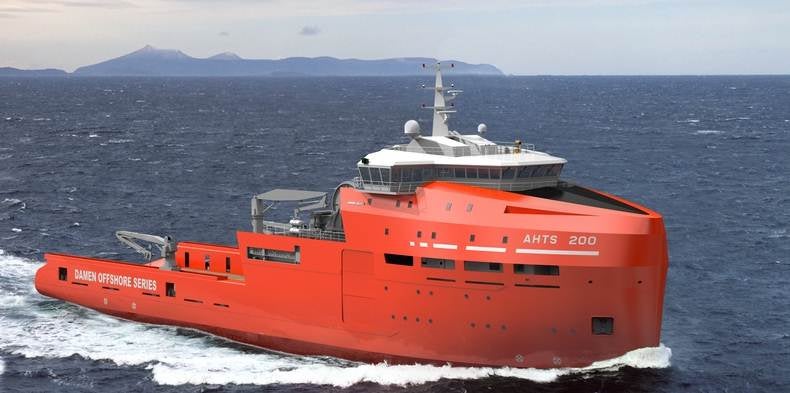 Dutch shipping firm Damen Shipyards has unveiled the AHTS 200, the latest addition to company's Offshore Series designs.
Damen's AHTS 200 is a deepwater anchor handling tug supplier (AHTS) that will be capable of operating in water depths of more than 3,000m.
Equipped with engines in a father-son layout, the vessel features twin-in single-out gearboxes driving CP propellers in a nozzle, generating 200t-250t bollard pull.
The new design vessel will have length of 89.1m, beam of 22m, draft of 7m and will feature an electrically driven winch package that provides clean, economical and safe operations, Damen said.
For the development of the winch package, the company collaborated with Huisman Equipment , a Netherlands-based firm that specialises in heavy lift and deepwater cranes, winches and drilling equipment.
The AHTS 200 design vessel will be equipped with a pair of 3840kW plus two 2880kW engines, which will help bring the vessel up to speeds of around 15.5 knots.
In addition to the flap-type rudders equipped on rotary vane steering gears, two 900kW tunnel thrusters as well as two retractable thrusters will be fitted at the front and rear of the vessel.
A high-end ROV system, with the possibility of launching through a side door, can be fitted into the space provided at the front of the winches.
The vessel will be capable of accommodating around 45 people in a mixture of single and double cabins.
---
Image: The new Damen AHTS 200 will be capable of operating in water depths in excess of 3,000m. Credit: Damen.