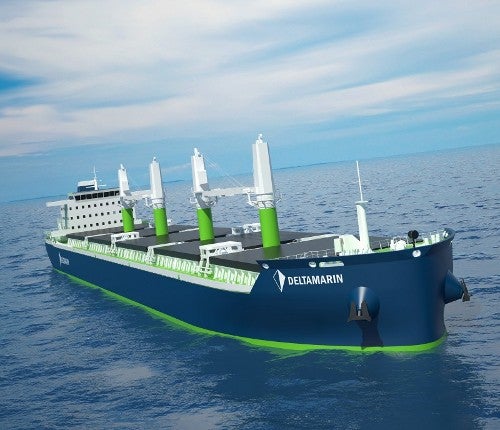 Finnish ship design firm Deltamarin has won a contract from China's CSC Jinling Shipyard to design a series of three firm general cargo carriers, including options.
The vessels will be built at CSC Jinling Shipyard to B.Delta37 design for German shipowner Oldendorff Carriers.
Under the deal, Deltamarin will provide the basic design, technical procurement handling and will send a site team to the shipyard to ensure continuity of design until completion.
Design work for the vessels will be performed at Deltamarin's offices in Europe and China, along with its partner network.
According to Deltamarin, the vessel design will be based on a modified version of the standard B.Delta37, configured with open hatches.
Each of the 38,300dwt vessels will have a length of 180m, beam of 30m, scantling draught of 10.5m, and cargo capacity of 48,500m³.
The B.Delta37 vessels, featuring 40-tonne SWL electro-hydraulic cranes and ice class 1C, will be fully logsfitted.
The vessels will have a service speed of 14 knots. Daily fuel consumption is expected to be 17.9t including a 15 % seamargin, while the energy efficiency design index (EEDI) will be 30% less than required.
The B.Delta series portfolio also consists of B.Delta25, B.Delta64 and B.Delta82.
The total number of firm B.Delta37 newbuilding orders, including the recent order, comes to 21 units, while orders of different types of B.Delta designs come to 38 in total.
---
Image: Deltamarin's B.Delta 37 general cargo ships to be built for Oldendorff Carriers will have a length of 180m and beam of 30m. Credit: Deltamarin..