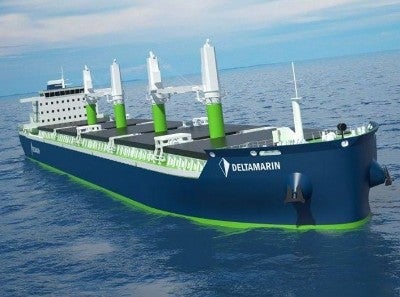 Finnish company Deltamarin has secured several new orders for its B.Delta bulk carrier ship designs.
German ship owner HBC Hamburg Bulk Carriers has placed an order for three B.Delta43 ships, plus options, to be built at China's CSC Qingshan Shipyard.
The 43,000dwt bulk carriers are a new size in the B.Delta family with an overall length of 189.99m, beam of 30m and cargo carrying capacity of 54,000m³.
The B.Delta43 design is a double hull bulk carrier designed to operate in restricted water depths with high energy efficiency and low fuel consumption, said Deltamarin.
Service speed at design draught would be 14 knots, while model tests suggested that daily fuel oil consumption at design draught will be 18.1t including 15% sea margin, ISO conditions, while the calculated EEDI for the B.Delta43 is more than 25% below the required limit.
Tunisian ship owner Transbulk has ordered two B.Delta37 ships at Yangfan shipyard including options, which will have a length of 179.9m, beam of 30m and cargo capacity of 50,000m³.
At design draught and service speed of 14 knots, daily fuel oil consumption should be 17.7t including 15% sea margin, ISO conditions, with EEDI calculated to meet existing and future requirements.
Additionally, China Navigation Company (CNCo) has raised an option for four more B.Delta37 vessels with box-shaped holds at Chengxi Shipyard, while Italian ship owner d'Amico declared an option for one more open-hatch B.Delta37 at Yangfan Shipyard.
MT Maritime Management Group (MTM Group) has also raised an option for two B.Delta37 design vessels at the CSIC / Xingang shipyard.
As part of the detail design and technical procurement handling for the shipyards, Deltamarin will produce basic design, while site teams will ensure continuity from design to production.
---
Image: Deltamarin gets new orders for B.Delta bulk carrier ships; Photo: Courtesy of Deltamarin Ltd.