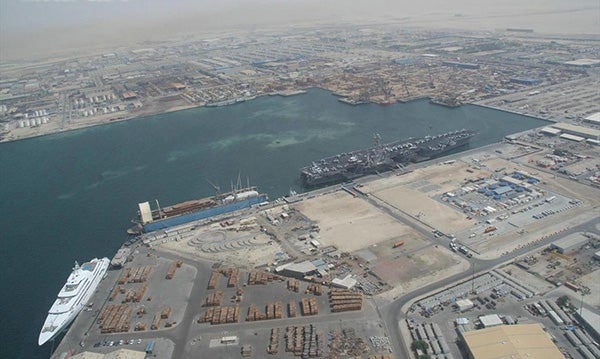 Container terminal operator DP World has completed the largest dredging programme in a decade at Jebel Ali Port in Dubai, UAE.
Under the project, a total of 477,000m³ of soil has been dredged from 2,900m of quay wall at the ro-ro vehicle carrier terminal, the tanker terminal and three container berths.
The deepening of the draught will allow the port to handle ten next-generation 18,000teu vessels simultaneously.
The project has seen the draught of the ro-ro and tanker berths deepened from 10.5 to 11.5m, while container berths 14, 16 and 17 were deepened from 14m to 16m.
The dredging project and further expansion works currently underway at Jebel Ali port will increase container handing capacity by one million teu at container terminal 2, which is scheduled to open in the first half of 2013.
When completed in 2014, container terminal 3 will increase the cargo-handling capacity of the port by four million teu per year.
DP World senior vice president and managing director of UAE region Mohammed Al Muallem said Jebel Ali Port currently handles an average of three ultra-large container ships (ULCS) per week with a capacity of 14,000teu, which is expected to be increased in the future.
"In response to customer demand, this project will enable Jebel Ali to meet their needs to handle more of the larger ships, providing the efficient and cost effective services they have come to rely on," Al Muallem said.
DP World started work on the $850m container terminal 3 in October 2012; the terminal will be equipped with 19 ship-to-shore quay cranes and 50 rail-mounted gantry cranes to handle the world's largest container vessels.
TOA-Soletanche Bachy JV is carrying out the design, construction and commissioning of container terminal 3, in addition to providing the necessary terminal infrastructure.
By 2014, container terminals 2 and 3 will increase the total capacity at Jebel Ali Port to 19 million teu.
---
Image: The deeper draught will allow Jebel Ali Port to handle ten 18,000teu mega-vessels at the same time. Photo: Imre Solt.