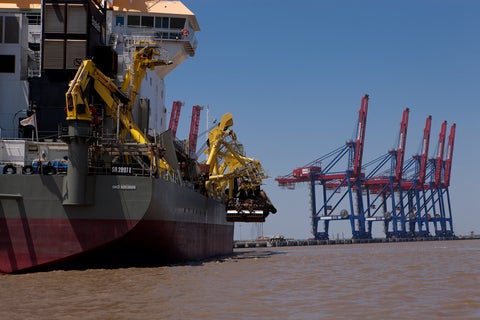 Dubai-based DP World has won a contract from Jawaharlal Nehru Port Trust (JNPT) to build and operate a single berth container terminal alongside its existing terminal operation at Nhava Sheva port, Mumbai, India.
Under the deal, DP World will invest about $200m to build the terminal, which is expected to have a quay length of 330m, draft of 13.5m and 17 hectares of yard space.
Scheduled to be operational in 2015, the new terminal will have an annual container handling capacity of 800,000teu and will help ease congestion for customers.
JNPT said that the contract also includes a 17-year concession period for the new terminal, which will be equipped with four rail-mounted quay cranes and 12 rubber-tyred gantry cranes.
DP World group chief executive officer Mohammed Sharaf said: "We currently operate five Indian terminals (Chennai, Mundra, Nhava Sheva, Visakhapatnam, Cochin), and our Asia Pacific and Indian Subcontinent region was the main driver of our volume growth in the first six months of 2012, reporting a 12.1% increase in volumes to 13.3 million teu."
In August 2012, JNPT awarded a €175m contract to Royal Boskalis Westminster (Boskalis) for deepening and widening the port and access channel in Mumbai, India.
JNPT currently has an annual handling capacity of 4.3 million teu, which represents more than 50% of the total quantity of containers handled by Indian ports.
Deepening of the port from the current 11.5m to over 14m will help in accommodating vessels of over 6,000teu capacity and up to 12m draught vessels at all states of tide, as well as increasing the annual port capacity by about 10 million teu.
DP World, which operates over 60 terminals across six continents, with container handling generating around 80% of its revenue, has 10 new developments and major expansions underway in nine countries.
In 2011, DP World handled nearly 55 million teu across its portfolio from the Americas to Asia, which is expected to increase to around 103 million teu by 2020 with a pipeline of several expansion and development projects in markets like India, China and the Middle East.
---
Image: The new JNPT terminal will start production in 2015 with an annual container handling capacity of 800,000teu. Photo: Boskalis.