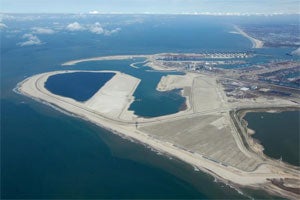 The Port of Rotterdam has secured the final part of a €900m loan from the European Investment Bank (EIB) to fund a 20% expansion.
Funds will be used to finance part of a €3bn land reclamation project and to build new container and specialist facilities at Maasvlakte 2, expanding the port area from 10,000 hectares to 12,000 hectares.
European Investment Bank president Werner Hoyer said, "Long-term investment for infrastructure of European importance, such as Maasvlakte 2, is essential for ensuring sustainable economic growth on the continent."
According to EIB, the expansion of port facilities provided by Maasvlakte 2 will give a boost to economic activity in both the Netherlands and elsewhere in north-western Europe.
Port of Rotterdam CFO Paul Smits said the company has invested heavily in the infrastructure of the port.
"We invest heavily in the infrastructure of the port. Both last year and this year, some EUR 500m, three quarters of which are spent on Maasvlakte 2," Smits said.
Construction of Maasvlakte 2 started in 2008 and after completion the number of ships moving from Rotterdam port is expected to increase from 31,000 in 2006 to about 57,000 in 2033.
Maasvlakte 2 will be a fully automated container terminal with a capacity of 2.35m teus of container handling capacity operating at a multimodal facility.
Currently the Rotterdam port does not provide any space for further growth and efficient port facilities in Rotterdam are important to the Dutch and northwest European economy, EIB said.
According to the port, two clients were already involved before the land reclamation started.
The port is expected to start operating their container terminals in the second half of 2014.
---
Image: Upon completion of Maasvlakte 2, the number of ships transported from Rotterdam port is expected to increase from 31,000 in 2006 to about 57,000 in 2033. Photo: The Port of Rotterdam