Read our latest reports on incidents of piracy across the globe, with data covering the latest hijacking reports and unsuccessful attacks, plus the response from governments, maritime associations and private firms.
---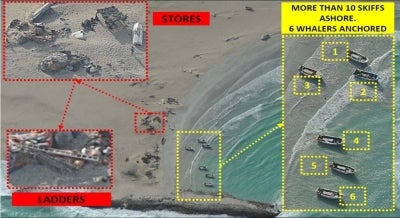 The European Union's Naval Force has launched its first ever land-based raid on Somali pirate assets, destroying speedboats, ammunition and fuel stores in an attempt to prevent further acts of piracy.
The attack, which focused on a pirate stronghold located north of Haradheere, follows EU authorisation for its naval forces to launch raids on pirate assets located on land, as part of a new strategy to prevent further piracy.
"Preventing them getting out to sea is a crucial step in removing their impunity ashore and to further the success of counter-piracy operations," said an EU statement.
The attack has been launched in an attempt to stem future pirate attacks, which have escalated in nature as of late.
Oceanus Live co-founder Glen Forbes noted the recent attack on the MV Super Lady, which occurred on 9 May 2012, in which an unprecedented amount of ammunition was fired at the vessel.
Seven RPG rounds and more than 300 AK47 rounds were used against the ship during an attack, which some within the maritime security sector have considered as a response not just to armed guards being more readily used, but a desperation to restock the level of captive vessels following a period of austerity for the pirates.
"The attack has been launched in an attempt to stem future pirate attacks, which have escalated in nature as of late."
"Interestingly, the press release by the EU states that the raid was carried out after collaboration between EU and TFG. However, the TFG has yet to enact a law against piracy," added Forbes.
"Something that has not been included in any media coverage is the fact that the planning for the mission was actually a contingency plan began about a year ago. The political process and the eventual extension of the mission mandate enabled the raid to go ahead."
Although the raid, which is thought to have involved just one helicopter gunship, may seem underwhelming, the need to keep seafarers away from danger has been highlighted. "The raid, which was nearest to the MV Albedo (held for over a year now), would have caused a lot of panic, and the potential consequence is on the crew of the nearby captive vessels and the protracted ransom negotiations," added Forbes.
---
Image: A typical pirate logistics dump. Image courtesy of Nato Shipping Centre.